Report • 01.01.2011
Tear open the cardboard box – move it onto the shelf – done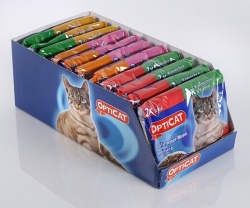 At Edeka or Rewe cardboard boxes on shelves are frowned upon, but at discount stores they are the rule. They demand shelf-ready packaging from their manufacturers. The manufacturers use the cardboard boxes for marketing purposes and come up with ideas to present their product well and in a jiffy.

"It's not that simple," says Claudia Rivinius. She manages business communications for the cardboard packaging manufacturer STI-Group. There are no standardized heights and widths for shelves. In 2007, ECR Europe published recommendations for shelf-ready-packaging in a "Bluebook". In 2009, GS1 Germany defined them more clearly for the German Market in an "Assessment Tool",but recommendations are not standards. Every retailer still has different dimensions. Even though discount stores place standardized shelving systems into their branches, Aldi, Lidl & other companies differ from one another. Only the pallets are clearly defined and since you want to ship things in a truck with as little spare room as possible, the space on the pallets is optimally used.
Claudia Rivinius calls the cardboard box as a transport medium "best for the environment." Plastic boxes for shelves have proven to be a failure. The cardboard box side panels are slimmer than their plastic counterparts and so less space is lost. The return to the manufacturer of the transported articles is costly. Cardboard boxes however can be imprinted many times, and when flatly folded up, they take up little room during their disposal. Even color imprinted cardboard boxes can be disposed of in an environmentally friendly way.

Discount stores put the pressure on
The biggest advantages of SRP (shelf-ready packaging) ensue at the branches, but they also optimize the entire logistics supply chain. For this, the packaging needs to be sufficiently sturdy and stackable, while the transport casing can still be easily removed from the tray at the store. The tray is the lower part of the cardboard box, which contains the merchandise. The store employees need to be able to see straightaway what is in the box and how it needs to be opened. Retail-ready shelf-packaging is easy to handle, can be opened without a knife and has a high display ability on the shelf; marketing experts talk about the so-called "shelf-impact."
Discount stores with their purchasing power have enforced SRP for almost 100 percent of their articles. If you want to be enlisted as a manufacturer, you need to deliver adequately. This also means: the cardboard boxes must contain the desired number of articles – exactly the amount, which stores are able to sell in a specific amount of time. The trend goes towards mixed assortments. The carton does not just contain strawberry jelly, but also raspberry, cherry and blueberry flavors.

New print processes and smart perforations
The merchandise presentation should still look pleasing, when half of the box content has been sold. That's why more and more shipping boxes are also imprinted on the inside, and there are feeding systems which push the product forward when a bag, a glass or a case is removed.
The cardboard box manufacturers always offer new print processes. Gone are the days where only one color could be printed on a brown box. By now even photos and custom colors are feasible, also gold-and silver-gloss. Manufacturers can choose exactly the color that fits their brand identity. This is especially important for a branded company. Yet also when it comes to store brands, the color on the cardboard box should match the color of the product.
Shipping boxes are furnished with perforations and entry holes, which make tearing boxes open easier, but still impart the container with its own look. In some parts, the merchandise is held by box inserts, which the staff needs to remove. This ensures that paper bags for instance stand perfectly upright on the shelf.

SRP is followed by retail-ready display
In the food trade special promotional offers are an important stimulus for business. Many chain stores weekly advertise new specials in adverts and leaflets. Not just articles that are available during a specific week are advertised, but also regular articles that are on sale. During the promotion period, the merchandise is often additionally placed in special shelf displays. SRP also lends itself to this purpose: Special offers are placed on a quarter-pallet, sometimes with rolls on the bottom, or entire pallets are directly placed on the sales floor. The cardboard box turns into a very visible display.

René Schellbach,
ixtenso.com


Supplier

Maarweg 133
50825 Köln
Germany