Product • 04.09.2007
Artema Compact
Multi-application and secure PIN in a versatile compact unit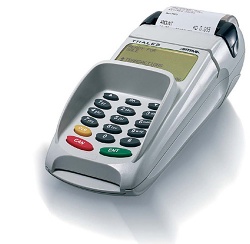 Benefits at a glance
Outstanding performance
Multiple communication options
Secure PIN entry
Simple and easy to use
Artema Compact is an all-in-one desktop payment terminal which allows merchants to accept all types of card payment with PIN. By combining amount entry and PIN authentication in a single unit, Artema Compact provides merchants with a convenient and spacesaving card payment solution.
Outstanding performance
All the key ingredients for successful card transactions can be found in Artema Compact: 32-bit RISC processor, large memory capacity, ease-of-use, instant paper loading, and fast printing. Artema Compact can handle all applications compliant with the latest industry standards, such as smart cards, gift and loyalty cards, age verification and electronic purse. The numerous options available for this versatile product mean that it can meet the most demanding point-of-sale requirements.
Multiple communication options
Artema Compact supports a variety of communications options, from high speed dial-up modem, to Ethernet for connection to local area networks, and ADSL routers. Able to support two types of communication modules at a time, the Artema Compact is ideal for merchants who want to benefit from the advantages of IP networks, whilst maintaining a back-up connection to the land-line. Through the Extended Communication Box (ECB), GPRS connection is also available.
Secure PIN entry
Artema Compact's internal PIN pad meets the latest payment industry security standards, for all debit, credit and e-purse schemes using chip or magnetic stripe technology.
Simple and easy to use
Easy-Click, the instant paper loading feature, saves precious time when needed most. Large, well-spaced keys facilitate entry and help avoid errors. Three clearly marked navigation keys combined with the multi-line graphic display create a highly intuitive user interface. Additionally, Artema Compact's unique monocable allows the terminal to be handed easily from the cashier to the cardholder, whilst reducing clutter on the counter.