Company News • 01.03.2011
BPA-free labels and 2D barcode printing for more sustainability
Minimising health risks and reducing waste paper – METTLER TOLEDO will present bisphenol-A free (BPA-free) labels and 2D barcode printing at EuroShop (26 February to 2 March – Hall 6, Stand E75).
A checkout receipt without any health risks: METTLER TOLEDO's presentation of BPA-free labels at EuroShop 2011 marks the very latest development within the company's sustainability strategy. The coating of conventional thermal paper contains the controversial chemical compound bisphenol A, which is said to enter the bloodstream through contact with the skin. In view of their routine handling of large numbers of till receipts, cashiers in the retail sector are at particular risk. But which health risks are associated with BPA? According to an EU declaration, high doses of the chemical have been linked to infertility and loss of sight, as well as the onset of allergies and even diabetes. For this reason, some countries have already banned the use of BPA in products such as baby bottles. Now, with the introduction of METTLER TOLEDO's BPA-free labels, the presence of the toxin in point-of-sale receipts has been consigned to history.
Multiple benefits
In addition to eliminating potential health hazards, the new labels from METTLER TOLEDO also represent environmental and commercial benefits too. The new, high-quality paper type causes less wear and tear on the scales' thermal print heads and on the labelling system, thus extending the useful lifetime of the printer unit. And there is no need for a retailer to compromise on the quality of the till receipts either – they are printed in high definition, with labels pre-printed with high-resolution images also available as required.

Intelligent use of 2D barcodes
Also on display at the METTLER TOLEDO stand during EuroShop 2011: 2D-barcode label printing. There's more to that inconspicuous-looking square of code than meets the eye – when printed on a till receipt, it can provide the customer with a wealth of extra information. Special offers, recipe suggestions and details of competitions and rewards programmes can all be encrypted onto that small area of the receipt. This transforms the receipt into a retailer's marketing tool in a matter of seconds, and has the potential to make promotional leaflets and posters superfluous, which in turn saves costs as well as helping to protect the environment.
To successfully decode a 2D barcode, all the customer needs is a reading device, which is included as standard on most smartphones nowadays. If the consumer wants to reveal the recipe suggestions encrypted on the till receipt, for example, it is simply a question of taking a photograph of the code with their smartphone, which will then decipher the 2D barcode automatically and display the recipe suggestion on its screen. METTLER TOLEDO will be demonstrating how easy this works in practice at EuroShop with an iPhone.

Supplier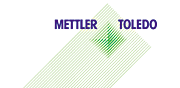 Ockerweg 3
35396 Gießen
Germany