Guest contribution • 30.09.2021
Cloud POS technology – shaping up the future of retail and restaurant industries
The escalating trend of online payments is expected to strengthen the cloud POS market up to 2026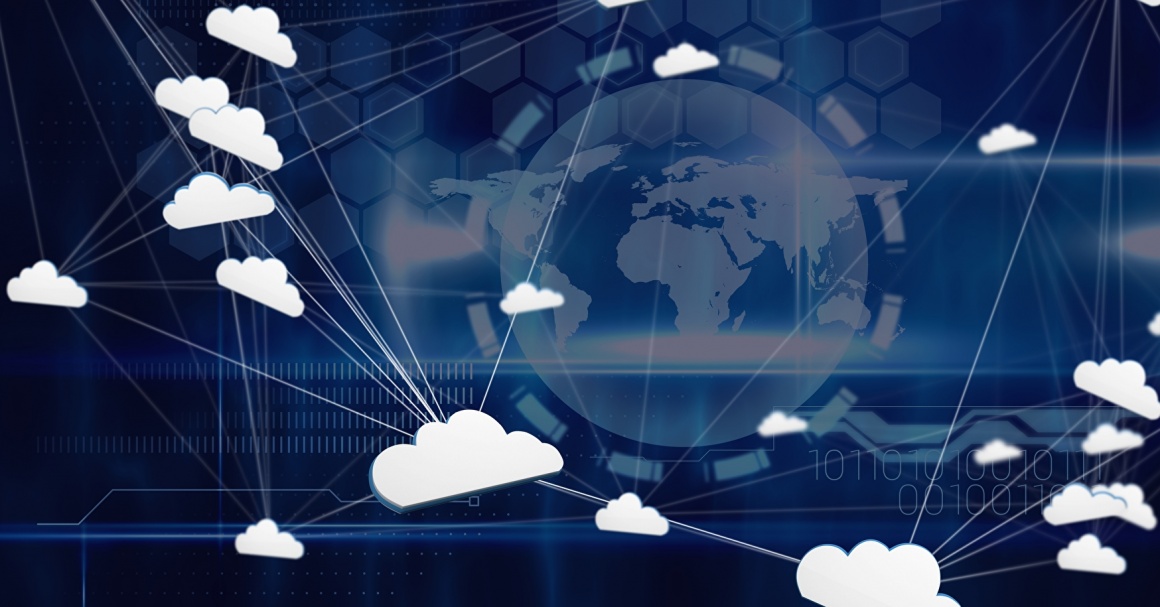 Source: PantherMedia/Wavebreakmedia (YAYMicro)
The digital payment landscape is transforming incredibly, worldwide. With specific technological advancements and penetration of cloud systems being a top priority, various corporations, retailers, and in-store leaders have pivoted to the use of cloud POS to make payment an easy and seamless experience for their customers. Cloud POS trends are witnessing an upswing, with nearly 28% of retailers planning to adopt the technology in shaping up the future of their sales activity and uplifting consumer satisfaction.
The global cloud POS market size is expected to reach $9 billion by 2026. Here is a lookout of the sectors that are expected to draw massive gains for the overall industry in the coming years:
E-commerce businesses and cloud solutions
The dynamically expanding e-commerce and retail sector has undeniably brought a major disruption in the operation of conventional brick-and-mortar stores, bringing about an upsurge in the transformative cloud POS landscape. These solutions help retailers in effectively managing inventory, increasing sales, enhancing customer loyalty, and streamlining their business operations.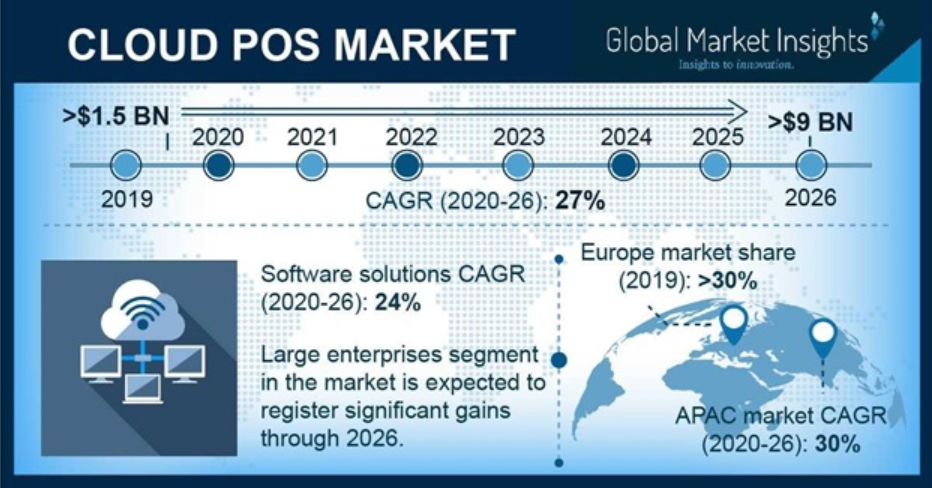 Source: Global Market Insights
Speaking in this context, it has been reported that only about 7% of the global retailers are currently making use of cloud POS solutions. This can be due to the dearth of the knowledge about the advantages the product has to offer for structured shopping experience of the customers as well as the retailers.
How would an integration of POS systems in e-commerce platforms be helpful? This novel integration would potentially allow retailers to manage online stores, automate their inventory management, trade across all channels, and provide customers with a wide range of payment transaction options.
'Hunger' for high productivity and enhanced customer experience
The e-commerce sector as well as the restaurant and hospitality sectors are expected to foresee tremendous gains from the cloud POS adoption over the coming years. Why should restaurants transition to cloud POS systems? Well, the answer is, to gain maximum profit sales and growth. Cloud POS systems allow restaurant owners to analyze data and trace the most favored items from the menu, thus helping them create the targeted marketing campaigns.
An important point to note here is that cloud POS offers encrypted online storage, while minimizing the risk of any incompatibility or failure. It also enables customers to enjoy the highly secured and encrypted system which offers smooth transactions on their orders.
Asia Pacific's roadmap for cloud POS: hope for the SMEs
Countries like China, India, Singapore and Indonesia are among the emerging digital POS markets in Asia Pacific region. It is a well-established fact that Small and Medium-sized Enterprises (SMEs) across Singapore are a key pillar of the country's economy. The segment contributes about 48% of its GDP, constituting 99% of all its enterprises, and employing about 65% of its workforce. In this case, adoption of cloud POS solutions across different enterprises and businesses would scale up their profit quotient considerably.
The usage of cloud POS services is required for business continuity. The cloud adoption in SMEs has also been fueled by the rising demand for replacing conventional on-premise infrastructure. Moreover, benefits of high scalability and enhanced data security has urged SMEs to adopt cloud models.
However, the outbreak of novel coronavirus pandemic in 2020, has brought down various businesses across the SMEs sector in Singapore. The country has to date recorded more than 90,000 cases, disrupting the regional business landscape. In this regard, the government is taking important steps to support businesses to transform digitally.
Citing an example, the Singapore government has introduced a program to revolutionize the digital space. As per OECD reports, Singapore's SMEs novel "Go Digital Program" offers support for businesses to digitally transform and expand the scope of pre-approved solutions eligible for the "Productivity Solutions Grant", to help businesses incorporate safe distancing and business continuity measures.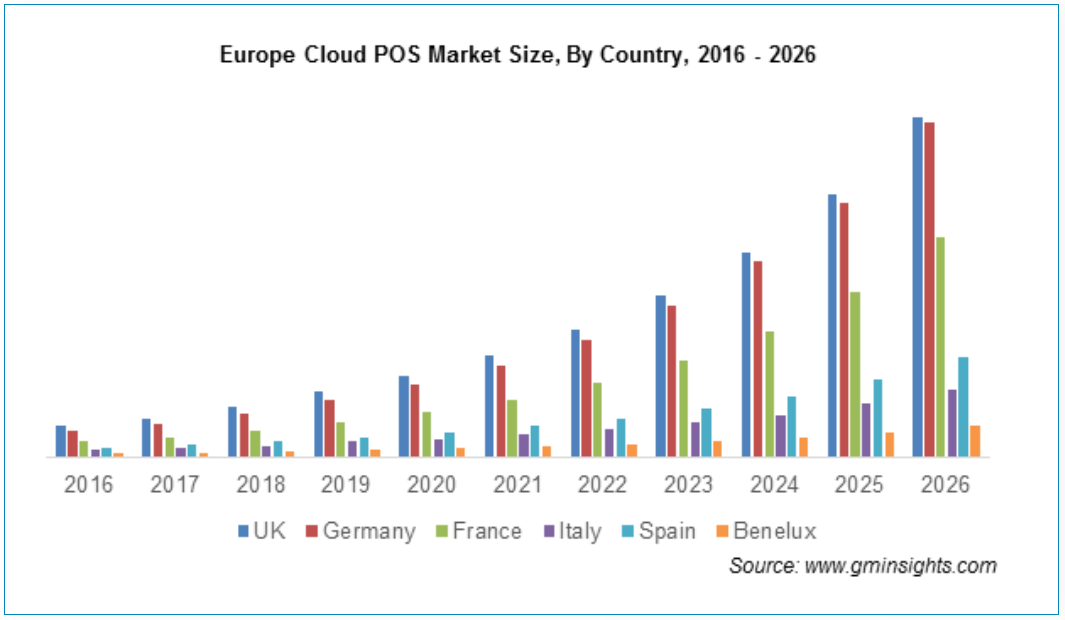 Source: Global Market Insights
Cloud POS system deployment trends in 2021 and beyond
With the coronavirus pandemic imposing the need for social distancing, contactless payments, and a paradigm shift to online platforms for retail, the demand for cloud POS systems is expected to accelerate to new levels in the near future. RSPA has raised claims that cloud POS system deployment rate increased to 15.5% every year. Moreover, the system incorporation would expand at a pace of 77.5% over the course of the next 5 years.
Across the restaurant sector in emerging economies, the trend of cloud kitchen is estimated to carve lucrative growth pattern for the cloud POS industry. In India, for example, the cloud kitchens sector is projected to become a $2 billion industry by 2024 end, as cited by a RedSeer Management Consulting. This can be accounted to the cloud kitchens ability to help create an effective connection to some of the D2C channels like social media, messaging platforms, and social media, that will enable restaurant owners to customize the guest experience, set up their digital storefront, manage online orders, and save commission charged by aggregators.
With such initiatives and progress underway, the future of cloud POS market looks quite bright in 2021 and beyond.