Report • 29.05.2020
Digitalization in the german wholesale industry
METRO Companion App
Retailers have embraced digitalization to enhance the customer experience for many years. Examples of the growing digital transformation market include self-checkouts, omnichannel marketing, and electronic shelf labels. Customer apps are also growing in popularity as of late. iXtenso took a closer look at the METRO AG Companion App.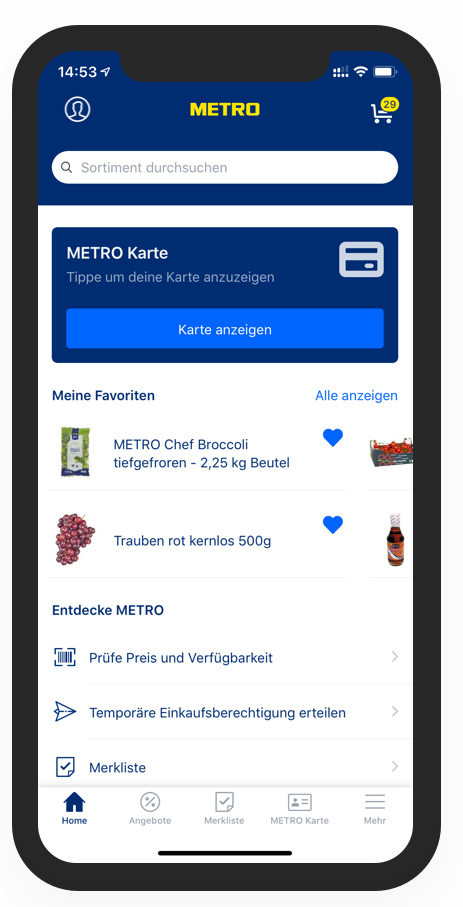 Source: METRO AG
The app has been available for customers in Germany since December 2019. Jörg Decker, Product Owner at METRONOM, the tech unit of METRO, says the goal here is comprehensive digitization of customer contact points. The benefits: customer-focused service, personalized communication, and increased efficiency on the part of customers and employees.
METRO is represented with stores in 24 countries, nine of them can now use the METRO Companion app. METRONOM collaborated with scanning service provider Scandit to create the app. Jörg Decker is sure that services like the METRO app will soon become widely used and accepted across the board in both retail and wholesale businesses. Why? "Because customers expect it. "
What does the app do?
The Companion App can be used by any smartphone user and doesn't require a METRO customer card. The basic function of the app provides information about current sales, prices, business hours, and product availability at specific store locations. Decker reveals that the check availability function was especially popular in the early days of the COVID-19 pandemic when supply chain bottlenecks were induced by many shoppers who embarked on panic-buying in bulk.
Users who log into the app with their customer details also have access to additional services. Thanks to the app, their customer card is always on file, and they can check their balance and individual prices. In-store, users can review product information pertaining to ingredients or country of origin by scanning the products with their smartphone. In some countries, the app recently also introduced a Click & Collect option and the so-called "Family and Friends" feature, allowing users to extend a one-time invitation a friend to shop at METRO without a METRO customer card.
"Our priority as a team is to make shopping easier for customers, both in terms of preparation and the actual shopping trip," Decker explains. The next step in the agenda is to digitize the payment process. Presently, the team works on integrating a self-checkout option.
What are the benefits for the retailer?
According to Decker, the app primarily allows the retailer to personalize communications with customers. Customers receive relevant information about special promotions, sales at the store and personalized advertising. The METRO customer expects this personalization as a standard of service. When customers are interested in cheese and wine, they expect to see information that is relevant, not information about office products for example. Customers are annoyed by ads that are irrelevant. "At first, we didn't do quite as much in terms of personalization. That's when our customers felt testy and told us, 'Why wouldn't you do this? You know me as your customer and you know what I want! ", explains Decker.
As an added benefit, store employees see a change in the nature of their work. Decker adds that using the app eliminates trivial, yet generally time-consuming tasks such as printing out receipts or looking up prices. This frees up valuable time and enables employees to spend it on other tasks.