Company News • 09.05.2017
Increase consumer loyalty through mobile self-scanning
Scansation helps retailers create personalized offers for anonymous consumers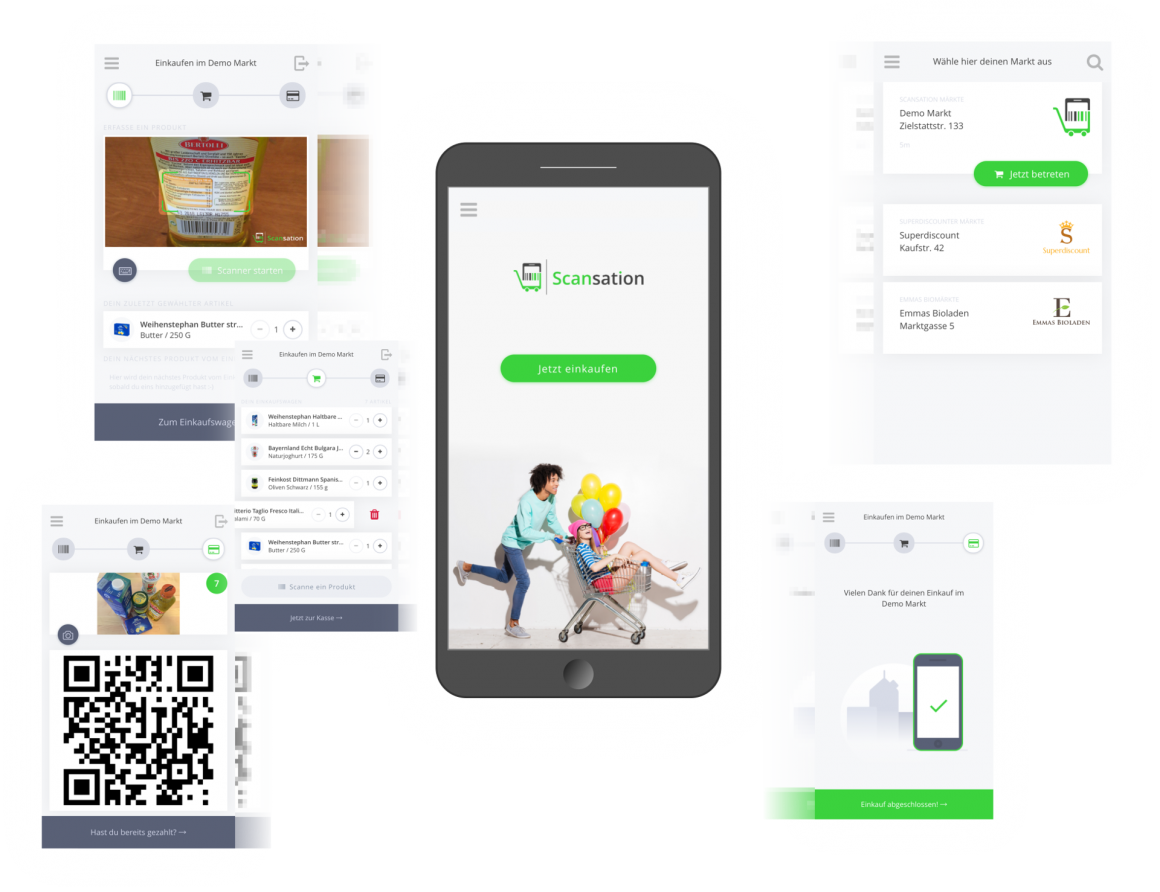 Source: Scansation
Good chances for brick-and-mortar retailers to create personalized offers for their anonymous consumers. Since May 2017 a mobile self-scanning system named "Scansation" is available. Special highlight: retailers only need this simple extension for their existing checkout, similar to a scanner, to offer immediate mobile self-scanning to their consumers. Consumers can use Scansation to scan barcodes of articles whilst shopping. The gathered barcodes are transmitted to an existing checkout via single scan. Finally consumers pay as usual. During this process a lot of data gets collected which can be used to create personalized offers. Consumers can even be reached on their couch through this app!
It is not easy for brick-and-mortar retailers to gather relevant consumer data. Their medium is offline. There are no click paths, shopping carts can be linked rarely and consumers are hardly reachable when they are not in the store. To proceed in digitization of local stores it is crucial to bring real added value to consumers when they are using digital services.
Mobile self-scanning has the potential to become a value-added service. One reason is that consumers exchange waiting time at the checkout, which is perceived as particularly annoying, with more entertaining time for self-scanning. In the best case these time shifts convert into time savings. Furthermore, consumers have to pack their trolley only once. Whith this app they can skip putting all their goods on the belt, waiting for them to be scanned and eventually packing them again. This also prevents tension from other consumers standing behind the customer and wishing him to be faster.
The difference to the self-scanning is that consumers capture barcodes with a mobile device while they are shopping. This way the problem of sequential scanning from inexperienced users at a self-checkout terminal can be avoided. The mobile device can be a handheld scanner that is borrowed from the store. With an appropriate mobile app the smartphone of a consumer can become a handheld scanner as well. That alternative is a great advantage for retailers do not have high investments in hardware and they even get a direkt channel to the consumers in all their life situations.
Supplier

Zielstattstr. 133
81379 München
Germany
Source: Scansation
Besides collected data there are further benefits retailers: time shifts for consumers mean time savings for cashiers in any case. This way there is a much higher throughput at the checkouts. And therefore the staff has more time left to offer customer services. This clearly leads to a higher differentiation to online retailers. In addition brick-and-mortar retailers gets a modern image.
In some countries self-scanning and also its mobile variants are quite common. Let's take Coop or Migros in Switzerland or some retailers in Great Britain. They all show that the fear of increased thievery is more a fear than reality. However, the security can be increased by suitable tools provided by self-scanning suppliers. Which these are depends on the concrete supplier. A personal contact point to the consumer should be part of it for sure. In addition random samples can be helpful. But also small measures like letting the consumer photograph his trolley before he proceeds to the checkout can encourage honesty.
Furthermore, consumers stay completely anonymous when using Scansation and are represented by an abstract ID which is necessary to link shopping carts and to reach them via the mobile app. With the market launch of the solution, retailers now have the possibility to request non-binding tests for their stores to see the easy integration to their own checkout in action.