Company News • 02.12.2009
Lekkerland returns to Hoeft & Wessel
Skeye supplies mobile terminals for merchandise orders in shops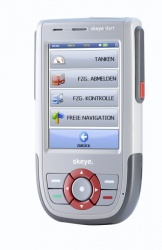 Skeye, the business division for mobile solutions of the Hoeft & Wessel Group, will be supplying the latest generation of mobile terminals to convenience wholesaler Lekkerland starting in November 2009.
The skeye.dart type devices are deployed by Lekkerland customers in Germany, Austria, Switzerland and the Benelux countries and by field service employees for placing orders.
In these countries, Lekkerland supplies its merchandise to some 100,000 sales outlets, including service station shops, kiosks and bakeries.
Using the new small Skeye terminals, the data can be transmitted directly to the Lekkerland Head Office via GPRS, Ethernet or modem.
What tipped the scales in favour of the skeye.dart were its handiness and easy operation via the large, 3.5" touch display. Moreover, by adding an order record option, Skeye made it even easier to read bar codes.
Hoeft & Wessel had already supplied Lekkerland with first-generation mobile terminals in the past; now, thanks to a long-term product strategy based on continuity, the company once again delivered compelling proof of its quality.
Lekkerland supplies service station shops, kiosks, tobacconists, special beverage outlets, department stores, grocery supermarkets, bakeries, canteens and convenience stores with a full range of sweets and confectionary, beverages, snacks, convenience assortments, ice cream, frozen foods, fresh produce, tobacco articles, telephone cards and non-food articles. The company is headquartered in Frechen, near Cologne, Germany.
The Hoeft & Wessel Group is the leading German IT and engineering technology group for mobile, ticketing and parking solutions. As one of Europe's largest manufacturers of mobile terminals, the Skeye division offers system solutions for retail and logistics as well as point-of-sale solutions. Skeye is the market leader in Germany's retail sector.