Product • 13.10.2010
New AutoDome Junior HD camera from Bosch
Delivers uncompromising clarity of vision for security systems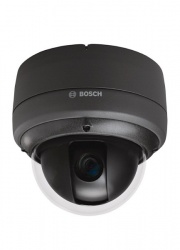 The new AutoDome Junior HD camera from Bosch
HD imaging with 1080p and 720p resolutions and H.264 compression
10x optical/16x digital zoom camera for greater monitoring range
Heavy-duty, compact housing is proven to outlast
Bosch Security Systems introduces the AutoDome Junior HD. This compact 360-degree pan-tilt-zoom (PTZ) camera provides high-definition imaging for distinguishing fine features in a scene. Delivering crisp, detailed images, the AutoDome Junior HD is ideal for indoor areas in banks, retail stores, casinos, and government or commercial buildings where clear identification of people or objects is required.
AutoDome Junior HD belongs to Bosch's new portfolio of HD solutions, which will incorporate moving and fixed cameras, software and recording platforms. Combining a high-performance pan/tilt controller, rugged dome, and a state-of-the-art autofocus zoom camera into a single unit, AutoDome Junior HD delivers upon Bosch's uncompromising vision to provide high-quality, easy-to-use security solutions.
160x zoom and maximized field of view
The 1/2.5 inch progressive scan CMOS gives customers 160x zoom (10x optical/16x digital) and 1080p or 720p resolutions. HD video delivers increased situational awareness with a 16:9 aspect ratio that maximizes the field of view without compromising image details. With more pixels per target object, it is easier for customers to monitor monetary transactions, and identify and keep track of small, high-value objects, such as jewelry.
At nearly half the size of a traditional pan-tilt-zoom camera, the compact AutoDome Junior HD is ideal for discrete surveillance. Its rugged, vandal-resistant housing helps protect the camera from damage and theft, ensuring years of reliable operation in the toughest environments.
With multicasting, AutoDome Junior HD provides simultaneous streaming of high-quality video with differing frame rate and resolution settings for flexibility in system design. For example, customers can select 1080p or 720p HD video for recording with H.264 compression and use a low-latency H.264 Baseline Profile stream for live viewing and PTZ control. Simultaneously, a lower resolution stream can be transmitted to a storage medium, while a JPEG image is sent to a hand-held device.
With the ability to stream at 720p at 50/60 (PAL/NTSC) frames per second, the AutoDome Junior HD delivers significantly smoother pan and tilt operation when compared with a PTZ camera that only streams 720p at 25/30 frames per seconds. The camera also offers optional Intelligent Video Analysis (IVA) software to automatically process video signals and alert operators to potential security risks. The higher pixel densities captured by the AutoDome Junior HD enables optimized performance of IVA with improved detection for loitering, line crossing and other potential threats.
The camera conforms to the Open Network Video Interface Forum (ONVIF) standard making it easy to integrate with other IP video equipment. For user-friendly operation, the camera supports up to 64 preset positions, one preset tour and one auto-pan mode.
Supplier

Robert-Bosch-Ring 5 und 7
85630 Grasbrunn
Germany