Product • 26.08.2008
prudsys EXPERT MINING SUITE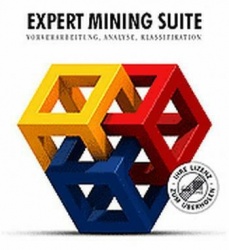 With the EXPERT MINING SUITE prudsys offers a closed range of pioneering Data Mining products including
prudsys PREMINER
tool for distributed Data Mining preprocessing and duplicate searching
prudsys DISCOVERER
tool with high performance classification
prudsys BASKET ANALYZER
tool for combined purchases in trade business
MERKUR MINER PLUS
Information management tool combined OLAP and Data Mining

prudsys PREMINER
The prudsys PREMINER is a modular tool for distributed data preprocessing for data mining analyses. It allows the merging of different distributed data and comprehensive data mining preprocessing.
PREMINER features a module for duplicate searches, thus making separate software for cleaning up addresses superfluous.
PREMINER is based on a client-server concept and enables unique distributed data mining thanks to its access server model.

prudsys DISCOVERER
The prudsys DISCOVERER is a universal data mining tool featuring powerful classification methods and is especially suited for creating customer profiles and scoring models.
The advanced technology of decision trees for predictive analyses (classification, data mining) was further developed with the DISCOVERER. The prudsys DISCOVERER is the world's only software tool that offers you 3rd generation decision trees (linear and non-linear decision trees) for the best possible forecast quality at the present time.
Fastest non-linear classification method
With its universal approach to the production of non-linear decision trees and sparse grid classification methods, the prudsys DISCOVERER is especially suited for use with high quality non-linear methods with large volumes of data. This is made possible by DISCOVERER's multivariate classification methods - the world's fastest.
Interactivity in data mining
The prudsys DISCOVERER enables you to create both automatic and interactive data mining models. The advantage of interactive operation is that you have maximum influence on the analysis. This helps you create segmentations and models ideally suited to your special requirements.
Permanent quality control and the analysis module
You can control the success and quality of the model during both the automatic and interactive analyses. The quality of the analysis is illustrated using gains, lift and segment charts. Using the analysis module you can determine optimal values for scheduled actions/campaigns (budgets, costs, ...) and forecast the profit you would make using data mining.

prudsys BASKET ANALYZER
The prudsys BASKET ANALYZER is a data mining tool that analyses purchasing patterns in both conventional trade and e-commerce.
The BASKET ANALYZER boasts the world's fastest shopping basket and sequence analysis method.
Thanks to the quick and intelligent decomposition method, it is possible to analyse several million transactions with the BASKET ANALYZER. The following reference diagram illustrates the duration of the analysis for 10 million transactions (shopping baskets) in 57 million datasets (sales slip data).

MERKUR MINER PLUS
MERKUR MINER PLUS is an analysis system which enables managers, analysts and decision makers to obtain quick and easy information relevant to their decisions from large volumes of data.
State-of-the-art technology such as OLAP analysis and data mining are used. MERKUR MINER PLUS combines OLAP analyses with high speed and informative visualisation as well as data mining analyses with intelligent forecasting capabilities in one system.
MERKUR MINER PLUS is the perfect tool for marketing, sales and controlling and especially for data analysis in database marketing and is suitable for the optimisation of marketing campaigns and the generation of customer and canceller profiles and scoring models.
Cross analysis technology
All analysis objects, whether they are geographical maps, charts or diagrams are linked together. Selections as well as drill down and roll up actions in an analysis object are automatically executed in all other analysis objects. This makes it possible to synchronously navigate through the data of a project.
Data mining
The data mining objects allows you to generate scoring models as well as responder, customer and canceller profiles. Response forecasts for marketing campaigns, for example, make it possible to put the focus of a marketing campaign on the profit making customer segments, avoiding expensive scattering losses. When generating data mining models, business charts help visualise the monetary value of the current model.
Reporting and export
All results and outputs, whether they are geographical maps, diagrams or charts, can be filed in one report. The user can define the layout of the report and the report can then be edited using an Office program like Microsoft® Word. Analysis results can be exported as Excel®, text or picture files etc.
Supplier

Zwickauer Straße 16
09112 Chemnitz
Germany