Product • 04.06.2008
STAR MICRONICS LAUNCHES NEW PROFIT-MAKING PRINTER
HSP7000 -THE WORLD'S FASTEST COMBINATION PRINTER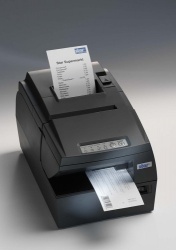 Since the demise of the cheque retailers have devised profit-making ways to use their two station cheque printing technology from completing jewellery insurance forms to long, detailed store credit card forms.
Star Micronics has now produced the world's fastest thermal/matrix slip hybrid combination printer to help with cutting the time these revenue-generating tasks take. The new HSP7000 series combines a high speed 250mm/second thermal receipt printer with a high speed 9-pin matrix cheque/validation printer to offer a versatile, high performance solution. Star has incorporated the high quality thermal print mechanism designed for the market leading TSP100 futurePRNTTM series as well as components from the high speed SP700 matrix printer.
With a print resolution of 203dpi, the HSP7000 provides superior quality logo and barcode receipt output. Although cheques are no longer accepted by a number of major retailers, this printer has a wide range of additional applications that offer a low cost means of generating additional revenue. Providing accurate form completion with high speed output, this printer is ideal for retailers offering product insurance cover and extended warranties (with up to 4 copies available). Furthermore, the HSP7000 provides the facility for the completion of store card application forms as well as the validation/endorsement of gift vouchers.
Offering unrivalled performance and versatility, the HSP7000 is compatible with the majority of operating platforms thus providing the OEM/system builder with a suite of operating platform/emulation support.
Simon Martin, Director & General Manager, Star Micronics EMEA, states, "The HSP7000 is the world's fastest combination printer. Unrivalled in the marketplace, its sheer versatility and superior performance provide a highly effective two station printing solution."

Supplier

Star House, Peregrine Business Park, Gomm Road, High Wycombe
Bucks HP13 7DL
UK