Report • 02.11.2015
Tablet applications are conquering the point of sale
EuroCIS 2016: Retailers are increasingly interested in mobile services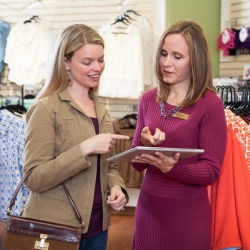 Source: NCR GmbH
Tablets will be used more and more, not just to advise customers at the POS but also as mobile POSs. Exhibitors are set to present suitable solutions at EuroCIS 2016.
Retail chains are giving intensive consideration to the use of mobile POSs in addition to stationary terminals. According to several market studies, e.g. The Mobile POS Effect by the US market researchers RIS Retail Info Systems, such mobile services are currently being discussed in-house, planned or even implemented by up to 65 per cent of all major retail companies. This interest is also shared by IT service providers. "There's apparently quite a demand for mobile POSs, particularly as we will eventually see alternative payment methods such as Apple Pay and Google Pay replacing traditional cash payments," says, for instance, Antonio Carfora, Project Manager at the Swiss IT service provider Bison AG.
Until now mobile devices in the retail trade have largely been used for store management jobs, such as stocktaking, stock maintenance and order processing. More and more retailers, however, are now also using such devices as sales support tools, e.g. to call up customer details or product specifications while advising customers, and also to find out stock levels or to place webshop orders at the POS. Tablets are "points of service unplugged, allowing staff to provide faster and more expert service for customers," says Ralf Schienke, Head of Sales at Fujitsu Technology Solutions Germany.
It is only a small step from mobile customer consultancy to mobile POSs. In practice, it is small unaffiliated retailers and services such as hairdressers and cosmetic studios which currently have a cutting edge in these matters. Such stores are usually quite happy with scaled-down POS programs, e.g. the application developed by Inventorum for its tablets. Inventorum's solution is a package comprising a tablet, POS software and merchandise management functions for small amounts. They say their clientèle already has over 400 tablet POS users, all of them small enterprises. Most of them feel that this is a good way to save the expenses of a regular stationary POS. Other service providers such as PosBill and Megara have similar solutions.
Chain stores, particularly also international retailers, on the other hand, have different needs. Their mobile applications need to reflect, where possible, the full range of functions which they have installed at their stationary checkouts – right up to the integration of CRM systems. Primarily, chain stores want to integrate mobile applications seamlessly into their existing system landscapes. The only cases where mobile processes run separately from normal operations is at the entry level or in specialised applications. In such cases the tablet has its own POS software, an integrated barcode scanner and a card reader that can be docked into the tablet, with an electronic pen for signatures. This makes it possible to handle cashless payments directly at the shelves. Provided that there is no need to disable antitheft labels, the subsequent checkout process is limited to packaging the merchandise and printing out customer receipts – unless, of course, the mobile device has an integrated printer or it can send an electronic receipt to the customer's email address.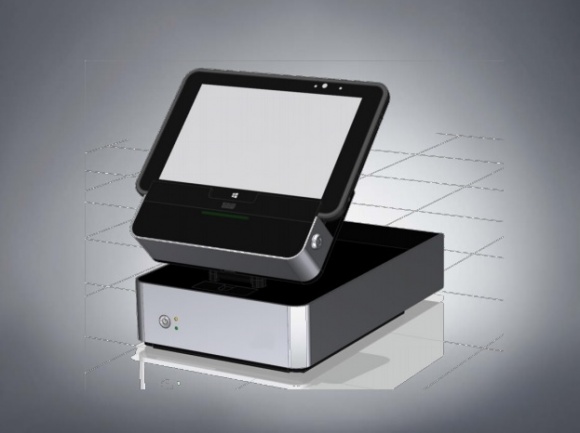 Source: Wincor Nixdorf International GmbH
Mobile applications for chain stores
For large retail enterprises, however, it makes more sense, in the long term, to have a fully integrated solution. And so the touchscreen of a stationary checkout, for instance, is replaced by a mobile unit that can also be run in stationary mode, using a docking station. "The business logic and data storage of the stationary POS client are remotely controlled, as it were, via the mobile device," explains Bernd Büker, PhD, Head of Global Sales & Marketing at Wincor Nixdorf. This makes it possible for a user to call up all applications installed on the stationary device, including payment functions. Checkout processes can therefore be spread out, as they are initiated on a mobile device and finalised on a stationary device. What makes this solution so smart is that the investment costs are manageable. Any existing checkout can quite easily be retrofitted by updating the software and replacing the POS screen with a tablet PC.
Greater technical sophistication, however, is involved when integrating additional mobile devices at several stores, with comprehensive POS functions that normally feature in stationary applications. This is where an application server is normally used, providing all the required functions at the local level, in virtualised form on a central system or cloud-based. Also, each store in the chain then needs a so-called POS device hub. The hub has a mini-operating system with specific periphery drivers. POS peripherals can thus be run in the same way and with the same functions as on a traditional POS. The devices are connected via the usual mains-operated interfaces, avoiding external power supply units and additional cables.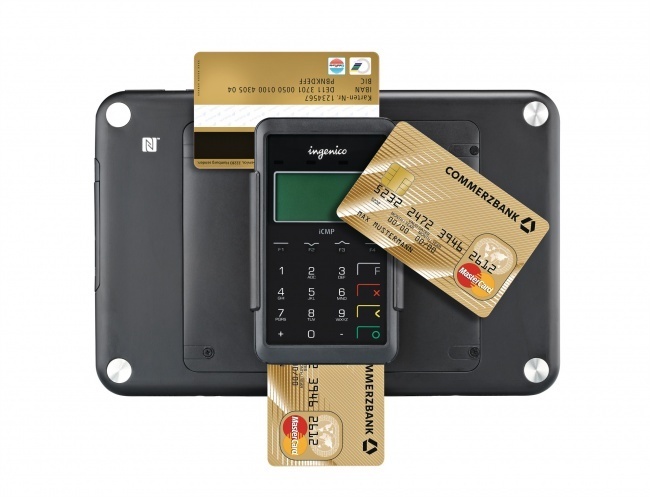 Source: Fujitsu Technology Solutions GmbH
Data security and durability
At EuroCIS 2016 IT service providers will be showcasing the full range of solutions – from entry-level to fully integrated systems. The kind of hardware that is used for this purpose is not usually a normal commercial tablet, but more industrial varieties which are suitable for continuous use at the POS. Fujitsu, for instance, has a special 8.3-inch retail tablet called Stylistic V535R. The tablet allows mobile payments and also a range of further mobile POS services in connection with omni-channel applications such as Fujitsu Marketing Place. Toshiba has an 11.6-inch touch tablet, the TCxFlight, which is available both as a stationary and mobile POS unit in combination with an optional base unit.
Wincor Nixdorf has developed a comprehensive hardware and software solution, BEETLE mPOS – a system with a modular structure so that it can be customised to suit a wide range of mobile application scenarios. They include two industry tablets, 8.3 and 10.1 inches, as well as a POS device hub for connecting peripherals. NCR will present a cloud-based software module called Sales Advisor. In doing so, NCR has decided to do without its own hardware solution. "Tablets, especially Windows-based tablets, are very inexpensive now and permit a wide selection of configurations," says Stefan Clemens, Area Sales Leader at NCR. The Swiss IT provider Bison AG, on the other hand, has a special POS solution for iPads in its portfolio.
At the moment none of the IT providers have any broad range of applications yet. But a number of pilot projects are now in progress. Nevertheless, experts are expecting to see mobile consulting and POS solutions in use over the next few years, especially in speciality retailing, such as fashion, sports and electronics. "We are targeting all retailers who want to stand out by offering specially tailored customer services," says NCR Manager Stefan Clemens.
Source: Messe Düsseldorf GmbH