Report • 25.08.2015
The "EuroCIS Book of Records"
Stand allocation for EuroCIS 2016 starts on September 1st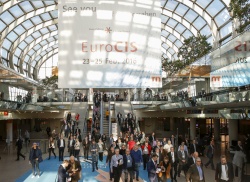 Source: Messe Düsseldorf GmbH
The Guinness Book of Records might be bigger but EuroCIS, The Leading Trade Fair for Retail Technology in Düsseldorf, also holds a few records: between 2013 and 2015 alone the number of exhibitors rose by an unbelievable 36%.
In February 2015 EuroCIS broke new records in terms of both exhibitor and visitors numbers: 320 high-performers and innovation drivers in retail technology met 8,782 international trade visitors, 85% of whom were top decision-makers from the international retail trade. At the forthcoming EuroCIS from 23 to 25 February 2016 further growth is anticipated as already now exhibitor demand is greater than ever.
The official registration deadline is on 31 August 2015. Obviously, it is still possible to register after this date but stand allocation begins on 1 September 2015 and the best stand locations in Halls 9 and 10 are very much in demand.
What is it about EuroCIS that has allowed it to become the leading trade fair for retail technology in Europe in just ten years?
First and foremost, its line-up as no other trade fair so comprehensively reflects the current, dynamic technological developments in retail and presents retail technology in all its forms and functions. This means EuroCIS covers the entire retail-specific knowledge spectrum of the IT sector: Omni-Channel Management, Business Analytics/Big Data, Payment Systems, Cash Management, E-Commerce/E-Business Solutions, ERP/Supply Chain Management, Mobile Solutions & Technologies, POS Software/Hardware, Checkout Management, Digital Marketing/Digital Signage, Workforce Management, Loss Prevention, Retail Security, Weighing Technology and Food Service.
Already early on EuroCIS picked up on the Omni-Channel theme
The Omni-Channel theme is now a firm fixture in the EuroCIS line-up. Because retail needs an as broad as possible range of services across all channels. However, many questions still remain unanswered: How can you successfully make the technical link up between E-commerce and bricks and mortar retail? How can you keep staff on board in the transformation into an Omni-Channel retailer? And what is actually the next step? Exhibitors will be answering precisely these questions, both in the specially created Omni-Channel Area and at the integrated Omni-Channel Forum which already went down very well with the trade audience in 2012 (bilingual in German and English).
Exciting lectures on interesting developments in retail technology
A well-established feature that goes down equally well with exhibitors and visitors alike is the EuroCIS Forum. This offers exciting lectures on interesting developments in retail technology. Topical case studies and trends are jointly presented by exhibitors and their customers (bilingual in German and English).
After their successful start in 2015 EuroCIS 2016 will again feature "Guided Innovation Tours", organised by PlanetRetail, for visitors (90 mins.) on selected exhibitors. In particular focus here will be start-ups and companies with innovative product and process solutions.
Presentation of the retail technology awards europe again in 2016
The highlight of the supporting programme at EuroCIS on 23 February 2016 will be the presentation of the coveted retail technology awards europe (reta europe) by the EHI Retail Institute. These awards are presented for excellent and innovative use of information technology in retail. Furthermore, 24 February 2016 will also see the presentation of the retail science award "Wissenschaftspreis Handel" by the EHI and GS1. This award is presented for outstanding scientific work that picks up on innovative ideas and is transferable to retail.
For further information on EuroCIS go to www.eurocis.com. Exhibitors can register online at the following direct link: www.eurocis.com/2330.
Source: Messe Düsseldorf GmbH
Supplier

Messeplatz, Stockumer Kirchstraße 61
40474 Düsseldorf
Germany