Report • 30.01.2015
IT-Trends, innovations and useful knowledge exchange
Now online: The complete forum programme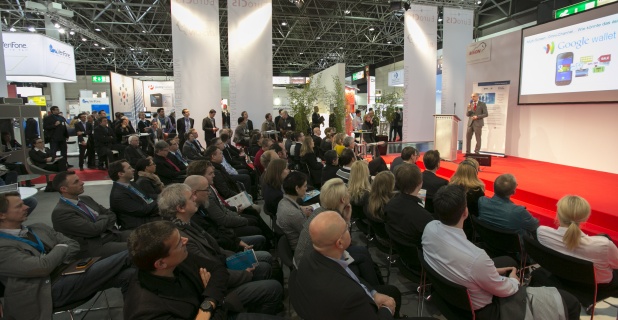 Source: Messe Düsseldorf
At EuroCIS, The Leading Trade Fair for Retail Technology, held in Düsseldorf from 24 to 26 February 2015, leading international IT providers present their latest tailor-made products and solutions for retail, on the one hand, while on the other, the EuroCIS Forum and the Multichannel Forum offer an extensive series of lectures over the three days of the event.
They feature short presentations with up-to-date practical examples as well as spotlighting projects and trends in IT. Visitors to EuroCIS can attend these compact presentations free of charge at both forums within the exhibition halls and gain rapid insights into how things are developing in the industry.

The topics dealt with in the Forum are just as varied as those of the EuroCIS itself. The highlights at the EuroCIS Forum include presentations of actual solutions implemented by retailers, e.g. "Central Administration of Global Branches - Configuration Server in Use at ALDI SÜD", as well as a topic entitled "Off-line Orders with the iPad – Mobile Purchasing for retailers", using the example of Donna GmbH, while another presentation is called "The Flexible Rewe Store". The general focus of the EuroCIS Forum is on topics such as Mobile, RFID and Business Intelligence. The Multichannel Forum offers several talks with promising insights, such as "Across the channels - solutions for local retailers" and "Save your point of sale by integrating online and mobile commerce solutions!". There will be simultaneous German/English interpretation for all lectures.

All subjects and speakers at the EuroCIS Forum and the Multichannel Forum can be accessed on the internet www.eurocis.com/events. The EuroCIS Forum will be held in Hall 10 Stand D 04, the Multichannel Forum in Hall 9 Stand F59.
Source: Messe Düsseldorf