Report • 27.11.2015
EuroCIS 2016: Making the move towards mobile!
Everyone's talking about mobile payment – only consumers aren't (yet)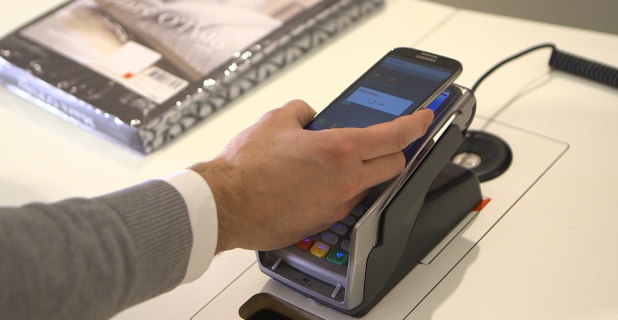 Source: GS1 Germany GmbH
Mobile payment continues to pique the interest of the retail community. The types of mobile payment currently being offered to retailers along with approaching trends of the future will be presented at EuroCIS, The Leading Retail Trade Fair taking place in Düsseldorf from 23 to 25 February, by providers such as CCV Deutschland, ConCardis, Ingenico, GK Software, InterCard, Itellium, S-Card, SIX Payment Services, TeleCash, Telekom, VeriFone, Wincor Nixdorf, Wirecard, Worldline and Yapital.
The latest EHI Retail Institute study showed that 57.3 per cent of the big German retailers will be able to process contactless payments by late 2015/early 2016. Another 24.4 per cent have plans to catch up in the near future. Especially in sectors with comparatively low average purchase amounts, the option of processing payments faster and in a way that's evidently more convenient for customers will be a part of the standard repertoire soon.
At the same time, system providers are exerting significant pressure in order to weave a widespread net of sales outlets that accept mobile payments. MasterCard is already demanding that all newly installed devices set up to accept MasterCard or Maestro payments must be contactless. By 2018 at the latest, this will also be true for all existing devices. The setting of this deadline will likely correspond to the continued rapid exchange of terminals. The standardisation question appears to have been answered overwhelmingly in favour of NFC technology because of its suitability for mass deployment and high performance capability. Already, companies like Aldi or the Schwarz Group are following suit when it comes to contactless payments, which simultaneously creates the infrastructure required for the development stage: mobile payment.
Despite all the euphoria and willingness to invest, though, nothing matters more than bringing customers along on this journey. Obviously this is still the sticking point right now, with contactless payment usage figures lagging far behind the expectations of system operators and retailers. One reason could be that customers have in no way been outfitted with sufficient contactless cards. In Germany in particular, the Sparkasse organisation is one of the drivers, while customers of cooperative and private banks rarely own one of these high-tech cards. At the same time, customers probably don't fully understand and appreciate the benefits of contactless payments yet, which also means they haven't had enough positive experiences.
Christine Bauer, sales and marketing director and company executive at CCV Deutschland, comments on the current situation: "A lot remains to be done in order to achieve widespread customer acceptance of mobile payment. Definitely playing an important role here is the sparse dissemination of operators' wallets. Lighthouse projects such as NFC City Berlin may raise awareness, but customers queuing up at the cash register still feel quite uneasy about using a relatively unknown payment method. On the other side, the trend towards the mobile point of sale is getting stronger and stronger. The associated flexibility and the possibility of using tablets, apps and smartphones in conjunction with mobile terminals have created a rapid accelerator effect."
People in other European countries – Poland, for example – have "learned" how to use contactless payments much better than Germans. With the increasing network of accepting outlets and deeper card penetration, this should change in Germany as well – and it needs to in order for investments to amortise.
In any case, more than a few experts believe contactless payments are only a stepping stone on the path to mobile payment in a more narrow sense, which will turn the smartphone into the central device. In most cases, NFC technology, which already forms the basis of contactless payments, can be used for mobile payments, as well. That's a huge advantage, because the chicken-or-egg question of acceptance and demand won't even need to be asked. Take Apply Pay, for example: following its successful launch in the US in October 2014, it's been available in the UK since July 2015, on NFC. Google's Android Pay and Samsung Pay also utilise NFC. And the current test in the German capital, which runs under the "NFC City Berlin" banner, also favours near field communication – whether it's mobile or contactless.
But all these developments domestically and internationally can only be successful long-term if operators can whet customers' appetites and convey a sense of genuine added value.
The simpler the technology is to use, the higher its chances of success. The big skill needed here is aligning easy processing with a high degree of security. EHI studies have shown that both retailers and customers consider security the most important factor for the success of existing and future payment systems alike.
At the same time, creating added value is key. That's why mobile payment is seen as very closely tied to innovative couponing solutions and other customer loyalty measures. The pivotal issue for the retail sector is who controls the data from the retail-customer relationship, another important factor for the success of mobile payment. Customer trust in innovative systems rises and falls with the confidential handling of customer data.
If the trust of customers can be earned and maintained, they'll welcome mobile payment solutions with open arms. Apple, for example, deploys a tokenisation approach in which reference numbers for cards stored in Apple Wallet are saved in the secure element and linked to dynamic security codes during the payment process. The iPhone's built-in fingerprint scanner is used to authenticate customers. As indicated by rising usage rates, this development has apparently already won over many Apple customers in the US and UK.
By contrast, other solutions are built on incorporating the telecommunications industry and its secure modules. If and when these systems become established in Germany is, in part, a political question, because Apple needs a strong domestic issuing partner in order to achieve widespread success. Right now, an agreement seems far off, with German banks evidently ruling out paying a commission rate of 0.15 per cent of the transaction amount to Apple like their US counterparts.
Meanwhile it's time to get geared up for the future and monitor the developments. Payback, Germany's leading bonus points programme, has already announced a mobile payment solution for 2016, and lately the German Banking Industry Committee has also been talking about working on its own version – with a target launch date in three years at the earliest.
EuroCIS exhibitors will travel to the trade fair in late February with a vast range of mobile payment innovations and developments in their luggage. Two examples should suffice for now. Peter Heinen, portfolio manager of Worldline, makes this announcement: "At EuroCIS, we'll showcase QR-code and NFC-based end-to-end mobile payment solutions. For payment handling, we'll introduce HCE solutions and the versatile Worldline Wallet process. In addition, we'll present our innovative solutions from the areas POS terminals, payments, digital retail, e-commerce and cross-channel commerce." And Christine Bauer, CCV, reveals this: "In particular, we've reinforced our mPOS segment, and we'll present our own CCV app. Our small, mobile CCV Fly now interfaces with lots of industry-specific apps like gastronovi and bitbakers. We'll show what's possible in that area, too. And anyone who wants to experience Apple Pay live will be in exactly the right place at our stand."
Source: Messe Düsseldorf GmbH