Company News • 31.03.2016
Gen Z and Millennials believe brick-and-mortar stores are highly important
Optimal in-store experience varies by generation: Secrets to mastering the experience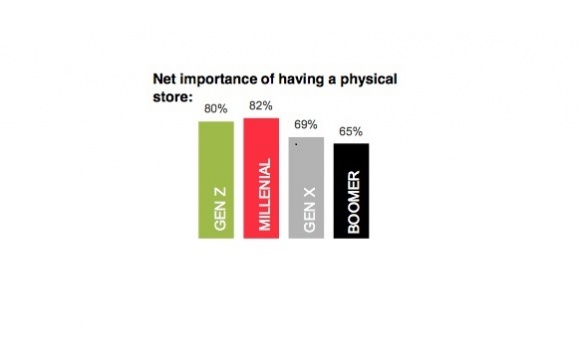 Source: iModerate
A new research study by iModerate, a progressive insights firm, reveals that most consumers consider it important for retailers to have a physical store, and the first in-store impression is a critical factor in building loyalty. It also uncovers the key factors that contribute to a stellar shopping experience for each generation.
Gen Z and Millennials Are Big on Physical Stores
In the quantitative portion of iModerate's study of over 800 consumers, 74 percent said it is important for brands to have a physical location, rather than solely selling online. Interestingly, younger generations tend to feel this way more than their older counterparts. Eighty percent of Gen Zers and 82 percent of Millennial respondents said it is important, compared to 69 percent of Gen Xers and 65 percent of Boomers.
Product Interactions Drive Sales, Loyalty
One of the biggest lures for in-store shopping is the assurance that comes from seeing, feeling and trying on merchandise, particularly items such as clothing, shoes and cosmetics. This is especially true for first-time buying experiences when brand perceptions are made and loyalty is decided.
"One of brick-and-mortar's greatest advantages over other channels is that there's an opportunity for shoppers to interact with products, and that gives them the confidence they need to make a purchase," said iModerate CMO Adam Rossow. "Retailers can take even small steps to capitalize on these exploratory shopping habits, such as creating close-up experiences with new styles, providing samples and demos, and ensuring there are ample mirrors and fitting rooms."
Optimal In-Store Experience Varies by Generation
iModerate found that the in-store experience matters most to consumers when they're buying high-priced items, buying specialty items (such as a prom dress), buying items they need help deciding on or understanding, when they're in a hurry and at the holidays.
The study also revealed that each generation is looking to get something different from their store visits:
Gen Z – Seeks the reassurance found through the sensorial. Stores like Charlotte Russe and Forever 21 enable them to try on various sizes and styles that are difficult to perfect online, and brands such as Sephora offer samples and demos.
Millennials – Seek efficiency and quality. Many are launching careers and have young families so they need to shop frequently, and favor big-box stores for their ability to quickly find everything they need in one place.
Gen X – Seeks an escape and discoveries. With bustling careers and older kids, their life is hectic and they appreciate stores such as Target that offer a getaway through calm music, coffee, etc.
Boomers – Seek comfort and space. Many are living on limited incomes, so they like to touch products before buying them and balk at paying for shipping. They also value low music, light scents and seating.
Three Make-or-Break Areas for Big-Box Stores
Although big-box chains are likely affected by e-commerce more than other types of stores because they sell commodity products, they still appeal to busy shoppers who want quick, one-stop-shopping.
However, iModerate identified three factors that can tip the scales in either direction for big-box shoppers, and lead to different perceptions of the same brand.
Personnel – Big-box stores are often well staffed, but consumers complain that sales associates lack product knowledge.
Convenience – Although they carry a wide array of products, consumers find inconsistency with selection, layout, maintenance and management within each store, causing them to spend more time shopping than they'd like.
Layout – Larger stores with wider aisles allow for easier navigation, but these cavernous spaces can feel cluttered and dirty when not well maintained.
"When it comes to big-box stores, providing a consistent brand experience across every store is essential," said Rossow. "Retailers should identify the locations that best uphold their brand promise, figure out what consumers love about them and implement those best practices across all of their locations to the best of their ability."
More information on the study findings can be accessed at www.info.imoderate.com.