News • 10.10.2017
Hardwick Clothes re-launches brand, growing heritage fashion appeal
America's oldest Made in USA tailored clothing maker has launched a new flagship website and brand identity update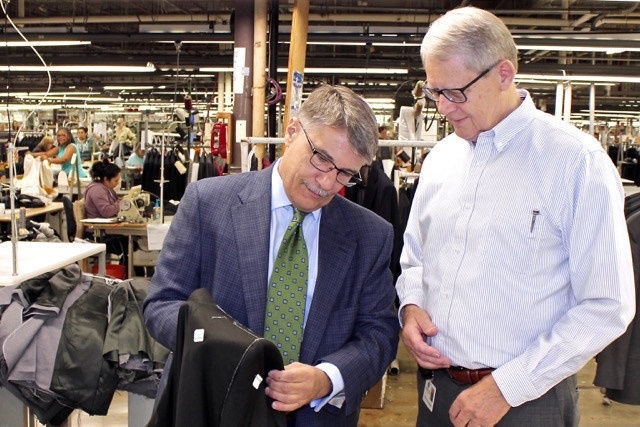 Source: Hardwick Clothes
Drafting off of steady seasonal increases in both wholesale and retail sales, including the company's first line in clothing retailer Saks Fifth Avenue's New York City stores and Southern department store Dillard's, as well as a growing business with an illustrious group of fine regional specialty stores, the Cleveland, Tennessee-based brand's new identity is both a nod to the modernization and elevation of the company's product offerings and a clean, retro homage to its proud small town USA roots.
Hardwick's website and brand re-launch are the culmination of a process that began with its 2014 acquisition by Cleveland business icon W. Allan Jones, in an effort to save American jobs in his hometown. "Hardwick is Cleveland, and Cleveland is America. I could not stand by and let such a proud historical legacy drift into oblivion," notes Jones. "Saving our country and our economy starts with building and buying American Made, and keeping Americans working. This is an investment in the future of America. This is personal."
It is also the first step in what Hardwick believes will continue to be a proud, lasting renaissance in craft-focused Made in America tailored clothing. "Re-shaping and re-launching the brand and the website are the final pieces of the puzzle. The most crucial element in this transition began with nailing down the make," notes CEO Bruce Bellusci, industry veteran and former Hart Schaffner Marx heavyweight.
"To have broken down and rebuilt the entire design, sourcing, and manufacturing process, to the point where we are now making garments with luxurious Vitale Barberis Canonico Super 150's and Reda Super 110's wool, stacked custom horn buttons, pick-stitching, patch pockets, etc. is no small feat. Our people make heirloom quality, yet eminently affordable pieces, here in Tennessee, every day."
Under Bellusci, and guided by the seasoned sartorial eye of Head of Design & Merchandising John Parenti, Hardwick has successfully shifted its focus to a decidedly modern look, feel, and fit, without abandoning its classic foundation. The fall line incorporates seasonal tweeds, plaids, and patterns alongside its time-tested stable of classic blazers, suits, and premium khaki pants. Hardwick also expands its fit offerings, adding a Neapolitan-inspired Trim fit alongside its Modern and Classic bodies. An archival, undarted, Trad sack coat, the Ivy fit, drops in Holiday.
Parenti notes, "Discerning customers – the folks we are focused on selling to – want lasting value. That goes beyond price. It comes down to quality and fit, which comes down to the materials and ultimately the make of the garment. Our make is truly world class, and that drives our value proposition."
The venerable Southern brand aims to cement its existing position as a maker of award winning American classics – the Chairman's Collection 1880 Blazer won Garden & Gun Magazine's 'Best in the South' award in 2015 – while growing as a leader in the exploding realm of stylish seasonal offerings, in increasingly modern fits and fabrics.
"Having a rich historical legacy to leverage, including the unique claim to the title of America's Oldest [continuously operated, 100 percent Made in America tailored clothing company], we are operating from an unrivaled position of strength in terms of storytelling," notes Vice President of Marketing, Chris Fleming, Hardwick's Polo Ralph Lauren-trained marketing lead. "But we are also relatively unknown. We are essentially the world's oldest start-up."
"Tailored clothing's nostalgia factor and built-for-Instagram aesthetics have clearly struck a chord with a younger, more diverse, style-obsessed consumer. They appreciate both the principle and practice of our Made in USA craft focus, as well as our grassroots approach: we do our photoshoots here in Cleveland, our employees are our models. We believe this consumer is itching to make a meaningful connection with a Made in America brand that has remained true to its roots – principles over profits – for 137 years," adds Fleming.
Echoing the company's deep connection to Cleveland and the city's own auto-racing past, Bellusci lauds the work that has been done so far, while highlighting the opportunity ahead: "This is special, what we are doing here. It has meaning, and that meaning is beginning to resonate. Better buckle up…"