Interview • 19.10.2017
"Omnichannel is not a retail invention but a response to customer needs"
Interview with Jens Thomas, Department Manager POS Design at Dänisches Bettenlager
Dänisches Bettenlager continues to expand its city store concept. The company is currently testing a high-tech store in Flensburg. In this conversation with iXtenso, Jens Thomas reveals how the firm offers its complete portfolio of products even in the tiniest of spaces by using digital technologies.
Mr. Thomas, why is your company currently drawn to city centers?
Companies are generally interested in expansion to strengthen their market position. At this point, we have 950 stores throughout Germany. There are gradually fewer and fewer sites for large specialty centers. And although we also continue to expand in this area, we primarily focus on the optimization and expansion of retail spaces and the improvement of existing stores.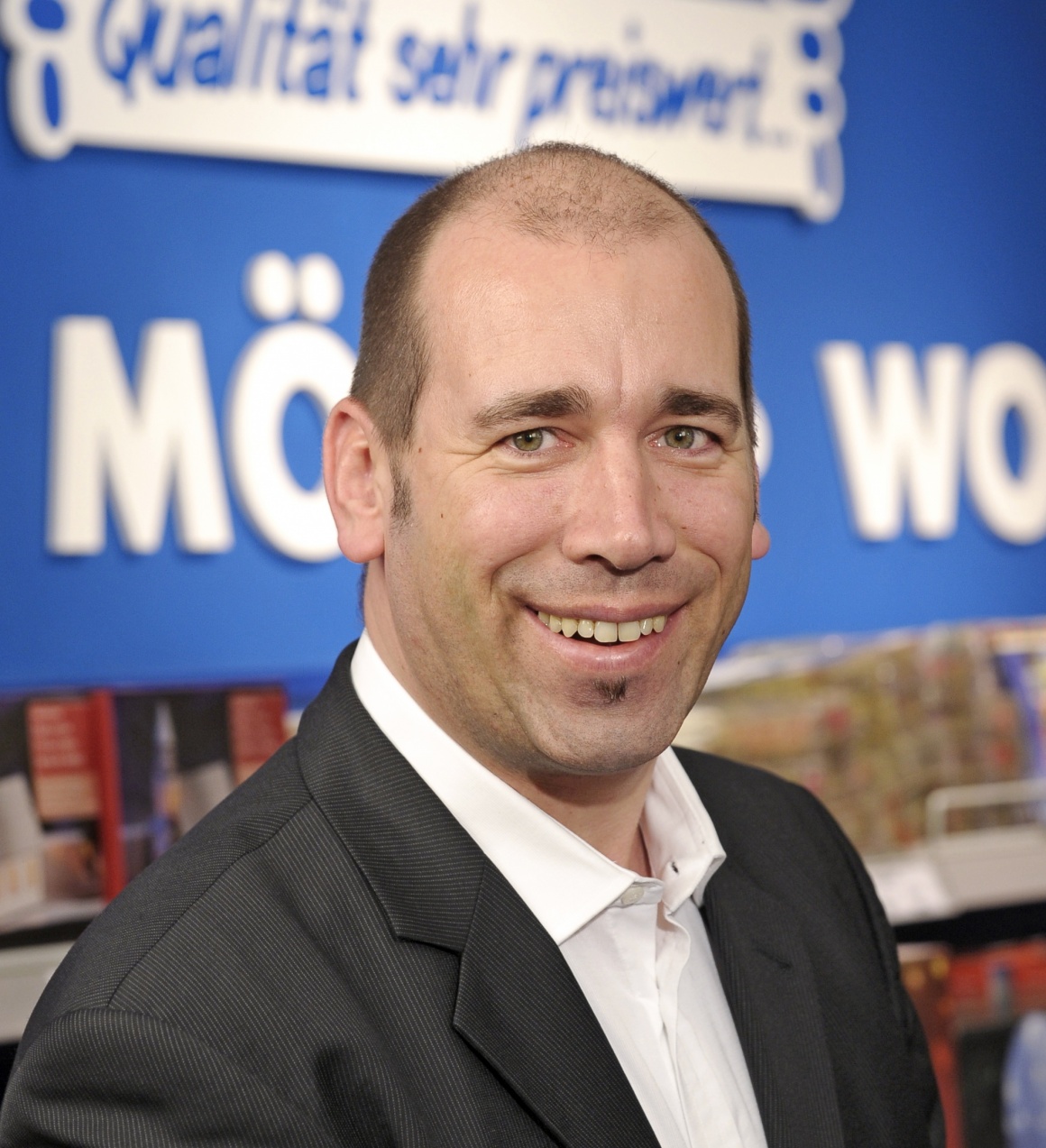 Source: Dänisches Bettenlager
In an effort to avoid the cannibalization of our own company, we needed a new type of setting. We have been aware of this for several years now. That's also why we started to explore city business locations, that being great locations in city centers or shopping centers. They are especially attractive and appealing because there is a high shopper frequency. In addition, our city stores feature product groups that have disappeared from city centers over the past 20 years. Recently, "specialty bed stores" have once again become a point of emphasis in city centers. Our product portfolio tends to be more concentrated in this case but it still offers all types of customers a wide selection.
Did this bring new challenges in terms of product presentation?
Furniture products are especially difficult to showcase in a compact space of under 300 square meters. After all, the products cannot be swapped out on a regular basis. This is why we utilize digital representation. By using screens and touch terminals, we want to give customers options to browse our selection of furniture and find inspiration.
Is there actually a way to get around the concept of omnichannel?
No, there clearly isn't. After all, we cannot invent a new customer. Omnichannel is not a retail invention but a result of the requests, needs and lifestyle changes of our customers. The emphasis in omnichannel is to make the customer the center of our attention. This is our obligation and responsibility as a customer-oriented company. No matter where the customer is located, he/she should be able to get information and purchase products at the same time. That's also why we offer different point-of sale locations in our store in Flensburg via new digital technologies.
One of these technologies is a multichannel touch desk.
That's right. Customers can get information about the products that are available at the store and also access the complete portfolio of the online store at the touch desk. Customers can call up the desired product on their smartphone via a QR code. They can also order items from the online store right on-site. We chose this solution since customers don't want to enter their personal data on a display in the store. What's more, customers can also take a printout of the QR code and order items in the comfort of their own home.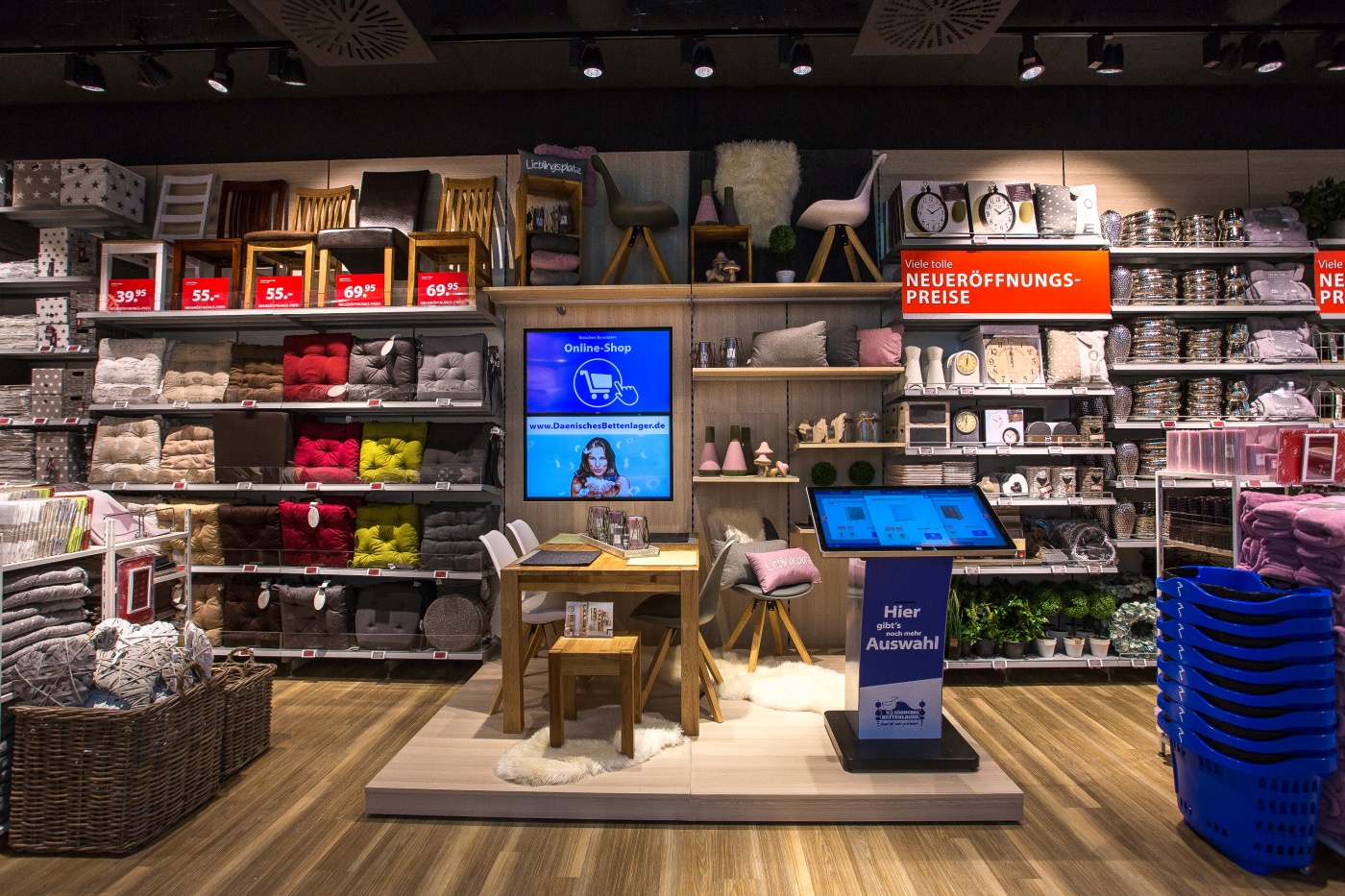 Source: Dänisches Bettenlager
Do you offer a click & reserve option?
We have already implemented click & reserve nationwide in all of our stores. This option is becoming increasingly popular with our customers. We can tell by our increased sales numbers. Shipments to city center locations are also an essential option. Having said that, we notice an increased delivery rate in the city stores compared to our retail warehouses, especially when it comes to furniture sales. This is not surprising since customers are likely not taking their car into town.
Have sales figures actually shifted due to the merger of online and offline channels?
No, quite the contrary. Our online presence doesn't take away any sales from our stores but has made us more interesting to customers. And that's precisely the intention behind omnichannel, namely to be wherever the customers are. Ultimately, our online store is an addition and complement and this is also reflected in our sales figures.
You also feature different digital signage displays in addition to the touch desk. How do you currently use them?
The objective of these displays is to grab the customer's attention and thus increase the visitor frequency. This is why we installed two 60 inch screens right at the entrance area. This is not a static digital poster display but also shows videos. At the moment, we are still evaluating the benefit of this technology and are also deciding the right measure to determine the purpose and timing of specific contents. Ultimately, the displays are meant to assist in optimizing the sales of our city stores.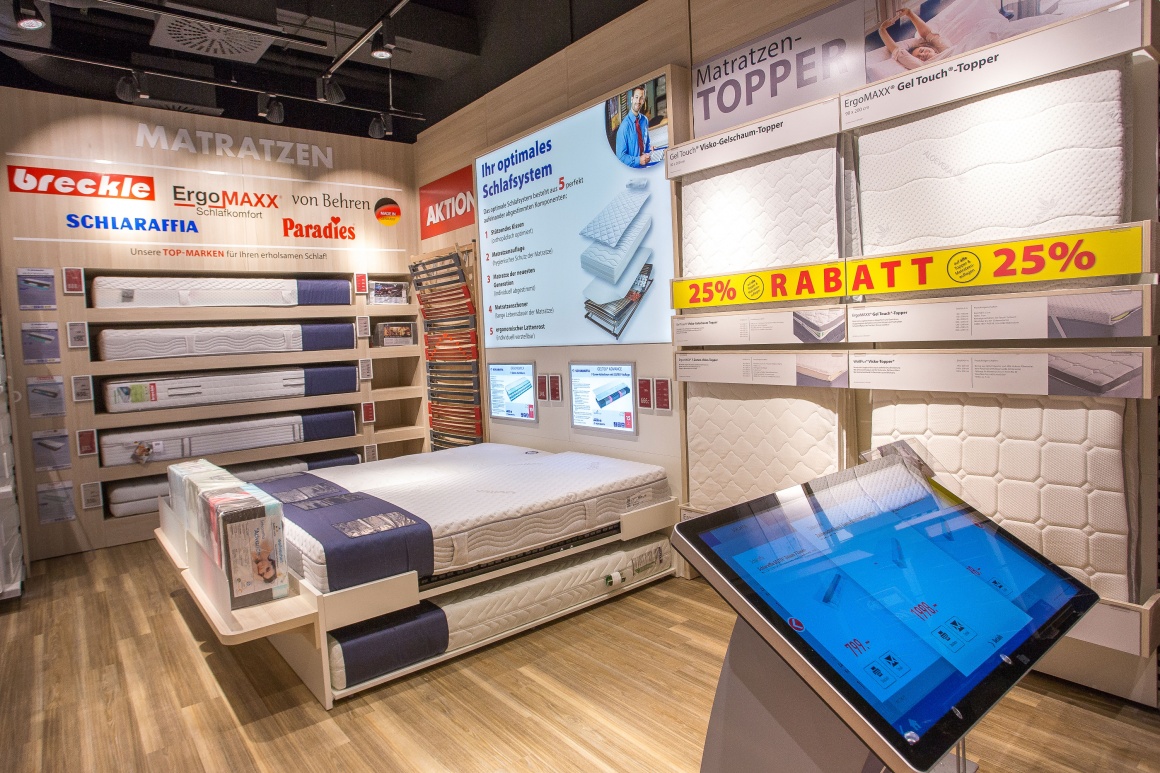 Source: Dänisches Bettenlager
You are also testing electronic price tags at the moment. However, the focus is not on the actual technology in this case. Is that correct?
That's right. The primary objective of electronic price tags is to make work easier for our employees. They are able to service customers during the time they saved by not having to manually change price tags. Dänisches Bettenlager offers personalized customer service. To do this, our employees undergo intensive training to be able to professionally assist customers in choosing products such as mattresses, bedding or furniture that require intensive consulting. However, this also means associates need the time to do this. We can significantly optimize the time factor if our employees no longer have to manually label or change price tags.
Could you picture the use of virtual reality glasses, for example, to create a furniture layout and turn those products into an experience that are unavailable at the store due to space constraints?
When it comes to technology, retailers need to determine how close their customers are to these tools. I think when we expect our customer to scan a QR code on a screen, we should not take it for granted because not all of today's customers are tech-savvy to that degree. I believe you have to reduce the fear of using these technologies as much as possible. That's why I don't envision the use of VR glasses at the present time. Apart from that, the market share of this technology is nearly zero. It is currently not a tool that is economically viable because you potentially have to create contents that should not be used for other purposes.
What is the recipe for a successful omnichannel concept in your opinion?
I believe that companies that foster and strengthen customer contact are the big winners in brick-and-mortar retail. This is the determining factor that sets them apart from online retail. Even though digital technology clearly signals a certain level of innovative capacity, at the end of the day, business is still done between people. Technologies only play a supporting role and provide an additional advantage as it pertains to customer communication. It is imperative to watch the market so you don't miss out on specific trends but you also shouldn't jump on any bandwagon just for the sake of keeping up-to-date. Ultimately, the cost-benefit ratio has to be balanced.