Product • 23.07.2007
PHL7XXX series - Terminals for ruggedized use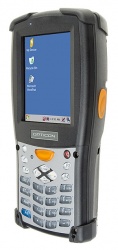 Mobile Terminals
Opticon manufactures mobile terminals for a multitude of applications. Ranging from tracking and tracing of parcels to being part of complex solutions for field services, Opticon terminals optimize and facilitate with WLAN and GSM/GPRS daily routines.
The PHL7XXX-series is equipped with Windows CE™ 4.2 as operating system and an integrated barcode scanner. Rubber reinforcement and ergonomic design make it easy to use the PHL7XXX with one hand. For data exchange the user can chose between Bluetooth in combination with WLAN and/or GSM/GPRS – these possibilities make it obsolete to order new hardware when upgrading the IT-system.
Further characteristics of this robust terminal are: 400 MHz Intel CPU, 64 MB FlashRom, 128 SD RAM and full colour 3.5" LCD graphic display (¼ VGA), IP54 certified.
Supplier

Lise-Meitner-Straße 1
63128 Dietzenbach
Germany