Interview • 07.09.2022
Practical buying, automatic selling
Interview with Alexander Eissing, Managing Director of Livello GmbH, about modern vending machines and their cross-sector future
Vending machines are a familiar sight at airports, train stations, hospitals and many other facilities. But not all vending machines are the same. Many of the older models are not suitable for meeting the requirements of both retailers and customers today. That's why we talked to Alexander Eissing, Managing Director of Livello GmbH, about the innovative vending solutions of the Düsseldorf-based company.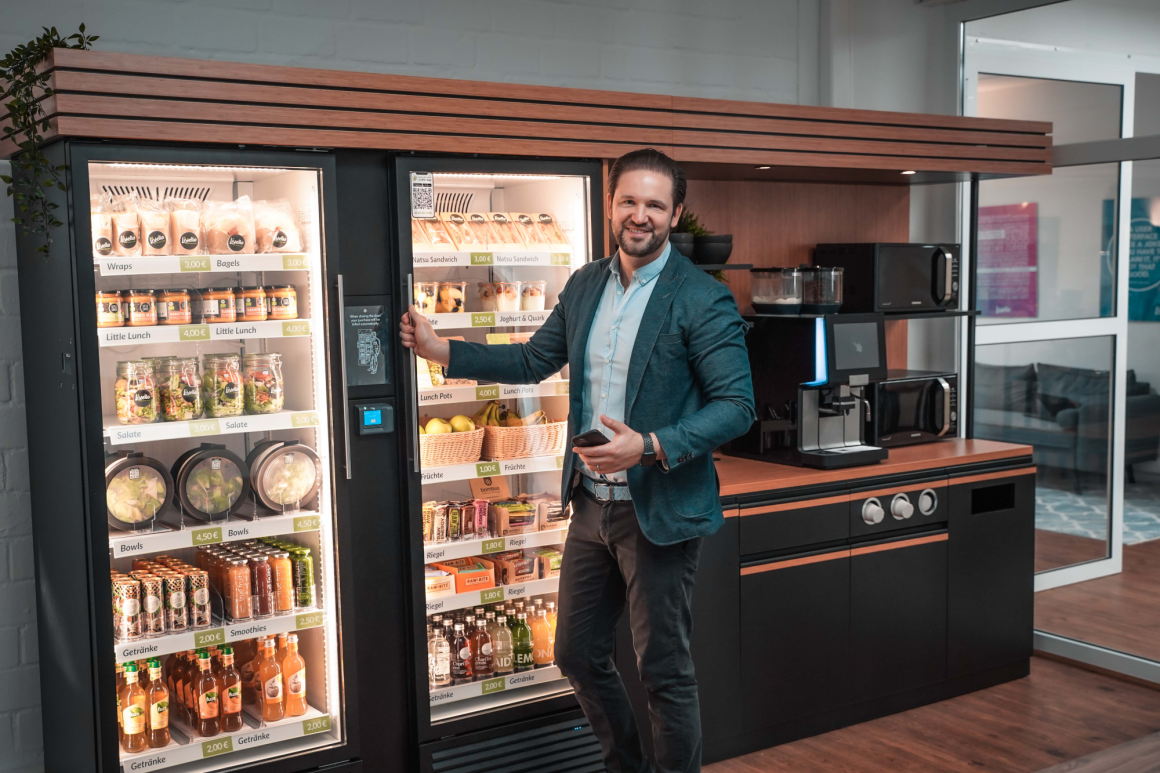 Source: Osman Hanci / Livello GmbH
Mr Eissing, how would you summarise the core business and core competencies of Livello GmbH?
Livello GmbH is a food and tech start-up with the goal of making fresh food and other everyday necessities available anywhere, anytime.
To this end, we are developing the future of autonomous retail and building automated small smart stores and refrigerators that can be set up and operated anywhere in the retail, catering and restaurant sectors. In this way, we offer a new physical channel in retail that can be placed exactly where people spend most of their time, directly at the point of consumption.
Our system offers a seamless grab-and-go shopping experience without queuing at a checkout, as products taken out are automatically recognised and accounted for. This also allows us to generate a lot of valuable data and insights into purchasing behaviour to predict demand and avoid food waste.
Livello GmbH is divided into Livello Technologies and Livello Catering. How do these two branches differ from each other?
Livello Technologies develops the technical system and offers our smart kiosks as a white label solution. Livello Catering offers a food platform and a partner network that make it possible to link interested parties with suppliers almost all over Europe. For example, in Europe we have a situation where over 80% of all companies do not have a healthy or regular catering option at work, but are looking for a practical, affordable and innovative catering solution. We pass these requests on to our white label customers and partners who run our smart kiosks there and fill them with fresh and delicious ready-to-eat and to-go products several times a week.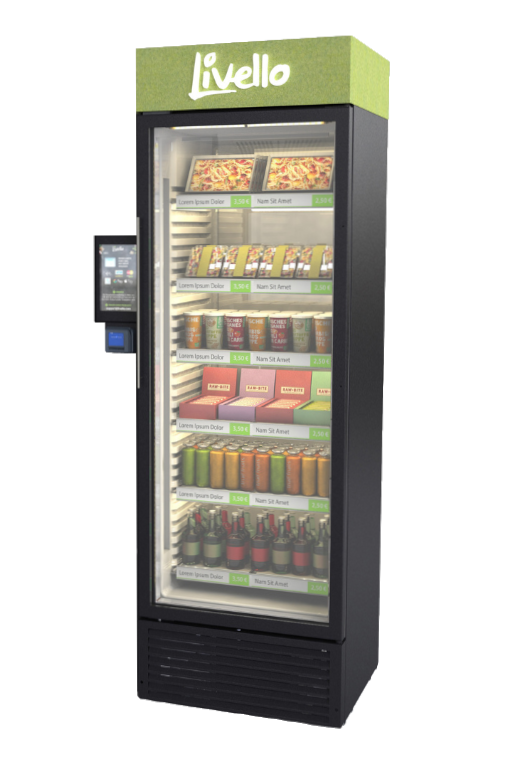 Source: Osman Hanci / Livello GmbH
What distinguishes a modern vending machine from the majority of older vending machines currently found at train stations and airports?
The classic snack vending machines are ideal for selling sugar, salt and fat, but they are not suitable for selling modern, healthy and fresh food. Although vending machines are currently in high demand, they are often out of date. Livello enables a new, positive sales and shopping experience with a "smart kiosk" refrigerator that is not only user-friendly, but also completely autonomous. For entrepreneurs, it enables new sales channels directly to the clientele, wherever catering is needed and without the restriction of opening hours.
We rely on digital and contactless payment options via NFC-enabled cards, smart devices and online payment via apps. This not only makes shopping faster and less complicated, but also more hygienic. Apps also contribute to customer satisfaction and loyalty. In contrast to classic spiral vending machines, customers at the Livello Smart Kiosk can select and inspect the products themselves, just like in a supermarket, through an open shelf system before the purchase is finally completed. Shopping quickly, conveniently and without constraint are crucial points that convince consumers to make a purchase. Users are also willing to pay more if they can convince themselves of the quality of the products.
Until now, refilling and cleaning vending machines has been rather cumbersome due to the many mechanical parts and motor systems, which also require frequent maintenance. Likewise, changing the assortment is difficult to configure and requires special tools. With the Livello model, this is much less complicated thanks to flexible levels and surfaces. A small number of motorised and mechanical elements also reduces maintenance intervals and downtime. Parts can be easily replaced by "non-technicians" thanks to plug-and-play components. In addition, the refrigerator can also be remotely controlled in order to rectify faults as quickly as possible without additional on-site technician visits.
In addition to hardware, you also offer your own software under the term "Livello Cloud Platform". What does this do and what advantages does it offer?
The Livello "Mission Control" is a SaaS and provides a control and management system for all business processes. It provides valuable reporting and insights in the flow of goods to align and optimise the business model, supply and supply chain to the actual demand so that the right goods, at the right time, get to the right locations.
The software provides insights and analysis on:
Kiosk performance and customer behaviour across unlimited locations
Data analytics in real-time live inventory, transaction and expiry rates
Optimise supply chain management through demand forecasting and fulfilment planning tools
Manage and edit kiosks, users, organisations and products
Customise planograms, dynamic pricing and promotions
Enable firmware updates and new features via the cloud
Remote control, troubleshooting and preventive maintenance
What interesting developments are you currently seeing in the market?
The underlying driver for evolution in corporate catering is digitalisation and the constant need to adapt to changing customer needs. As a result, we are seeing an increasing overlap of the different sectors right now: Vending, Retail, Catering and Delivery Services. The latest technologies make it possible to turn a canteen or a supermarket into a "walk-in vending machine" that no longer needs cashiers. This opens the doors for service providers to enter completely new markets.
The increasing demand for convenience, healthy sustainable food, constant availability of goods and product proximity are unstoppable trends. Through the use of new IoT technologies, data collection is used to analyse and automate shopping behaviour, marketing, assortment and the supply chain. Corona in particular has accelerated digitalisation: Three out of four Europeans prefer to pay cashless, contactless and digitally since the pandemic. 81% of Germans are willing to use a self-checkout and 74% would buy products in an unmanned shop. Without staff, physical checkout systems or queuing.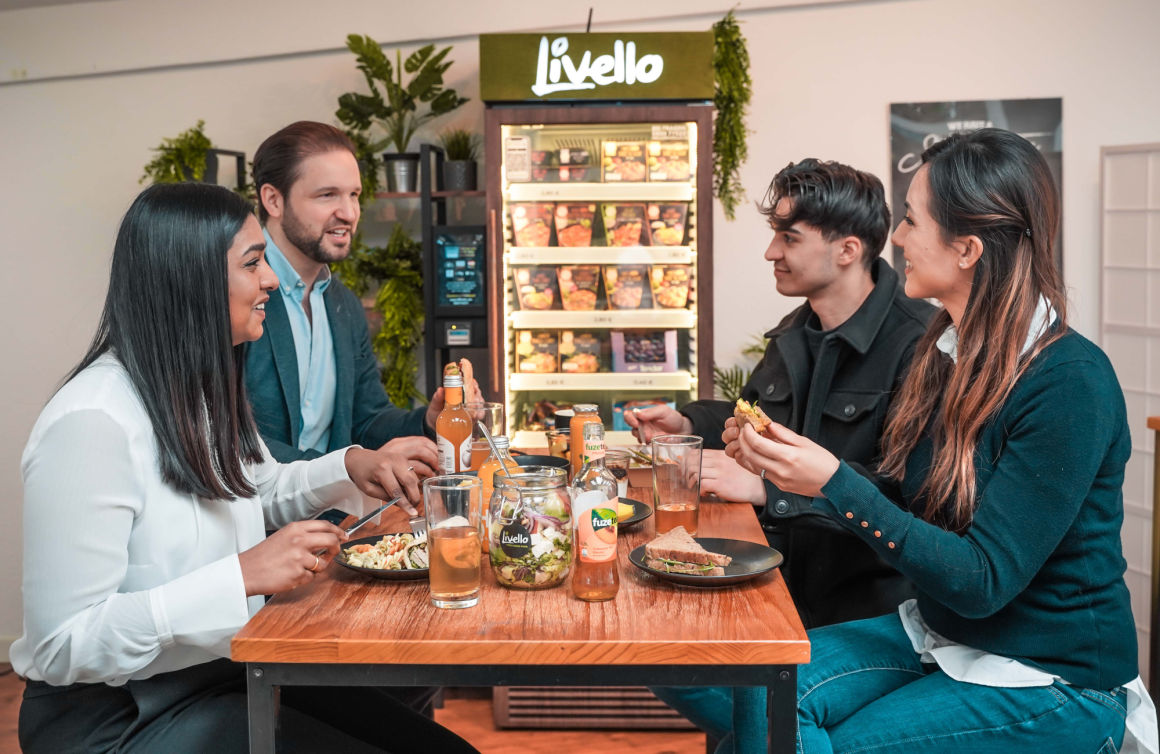 Source: Osman Hanci / Livello GmbH
What requirements do retailers have to fulfil in order to use your solutions?
We have a diverse range of customers from large corporations (retailers, caterers, facility managers) to smaller restaurant or hotel operators who want to build a new sales channel or offer an innovative catering solution. We try to provide all the necessary software and hardware tools as well as support for the operational processes up to the selection of the product range to enable everyone to successfully run their own smart kiosks. It helps if operators already have experience with food and HAACP, as well as the ability to transport refrigerated products to different locations.
Looking to the future: Do you think automated systems will continue to take over tasks or will a human interlocutor be irreplaceable in the end?
I have no doubt that automated Grab&Go systems will become widespread in the long run, especially in times of high skill shortages. However, implementation will take several years due to the early maturity of AI technology, high investment costs for early adopters and especially due to the hurdle caused by change processes within companies. The human interlocutor will still play an important role in the future, but the tasks will focus more on customer service, so that redundant tasks related to checkout, merchandise management, inventory or logistics will be automated more and more.