Advertorial • 02.01.2023
Save costs with modern technologies
Turning physical stores into digital assets – 30,000 retail stores worldwide already rely on digital IoT solutions
Retail is at the heart of our lives and societies, as it represents more than 20% of global GDP and 15% of jobs. With consumers changing their shopping habits, stores must now reinvent themselves and leverage new technologies to stay relevant in tomorrow's retail environment.
They need to undergo their own digital revolution to remain competitive and offer the best service to shoppers. They must become more automated, digitized and omnichannel to deliver a seamless customer experience with high efficiency at minimal cost. This is only achievable by leveraging Retail IoT Cloud solutions and devices that are sustainable, secure and scalable.
VUSION – The #1 Retail IoT Cloud platform
SES-imagotag has developed the VUSION Retail IOT technology platform to help retailers transform their physical stores into high value digital assets, more automated, data-driven, and connected in real-time to suppliers and consumers. VUSION improves the agility, precision and accuracy of prices, whilst ensuring the omnichannel synchronization of prices, product information and marketing campaigns. The platform developed by SES-imagotag also optimizes in-store order preparation and restocking.
VUSION improves employee satisfaction by freeing up time from cumbersome low value-added tasks and allowing them to focus on customer service and merchandizing tasks. VUSION connects shelves to the Cloud, providing real-time accurate information on product availability and location, allowing for reduced inventory, out-of-stock and waste, as well as improved on-shelf availability and merchandizing compliance. VUSION empowers consumers with better product, nutritional and traceability information at the shelf and enables a frictionless in-store shopping experience with features such as product search, pathfinding and cashier-less scan & pay features.
Supplier

Bundesstraße 16
77955 Ettenheim
Germany
55 place Nelson Mandela
90000 Nanterre
France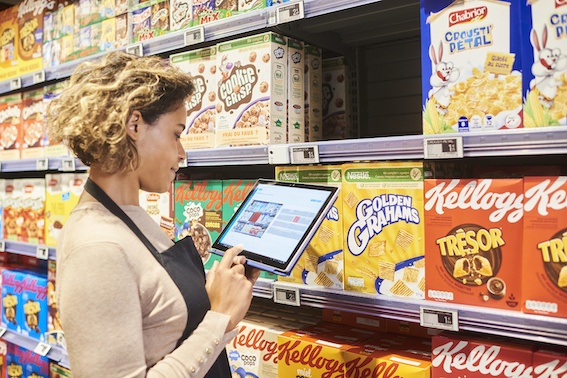 Source: Captana
Boost your on-shelf availability thanks to real-time shelf monitoring
Out-of-shelf situations and merchandising compliance are key pain points for today's retailers and brands: retailers can lose up to eight percent of their sales annually due to stock shortages alone, as customers either postpone their purchase or do it elsewhere when they encounter an out-of-shelf (OOS) situation.
With its innovative shelf monitoring solution, Captana, a subsidiary of the SES-imagotag Technology Group, establishes a direct connection between the shelf and the cloud and provides detailed information about product availability in real-time. With this data available 24/7, inventories, shortages and food waste can be reduced, while on-shelf product availability, data quality and customer satisfaction can be optimized.