Interview • 24.07.2015
"Shopper frustrations can be prevented by a robust POS system"
Interview with Justin Guinn, Retail Market Researcher at Software Advice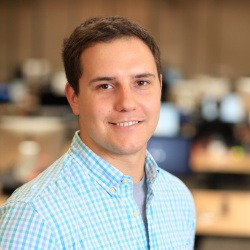 Source: Software Advice
Today, many shoppers choose to stop doing business with small retailers. This could be prevented by a robust POS system, but many retailers still don't have one in place. iXtenso has talked about this to Justin Guinn, retail market researcher at POS systems review site Software Advice and author of a new guide for small businesses looking for POS solutions.
Mr. Guinn, your new study uncovered an interesting fact about POS system adoption among small business retailers, what did you discover and why is this significant?
We talk to and advise thousands of retailers around the world each year who are looking to make a shift to a point of sale system, or upgrade their current one. From these conversations, we get a big picture of where the retail industry stands in terms of POS adoption. We were shocked to uncover that 64 percent of single-store retailers don't have any POS system in place and are still operating off of manual methods or cash registers.
The reason this findings is surprising is because of the long list of operational benefits these systems can bring to a retailer who feels overwhelmed with all they have to do to run their store. The good news is that those 64 percent of retailers are considering the move to a POS system soon, and I'm sure it will be a welcome change.
You also mention that there are five "Must-Have" features that small merchants need from a POS. What are they?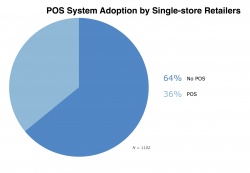 Source: Software Advice
In hearing what these retailers are looking for from a POS solution, and what their most common pain points are, we identified five key features that retailers should be on the lookout for when considering a POS system. We created
an easy guide
to POS for small business that dives into these in detail.
But, from a high level, these 'Must-Have' features are: Sales Reporting & Analytics, Customer Management, Employee Management, Inventory Management and of course, the actual Point of Sale/Checkout.
Each of these takes care of crucial and essential processes that keeps a retailer's business running smoothly, and can significantly reduce the amount of manual entry and time-consuming work that small merchants are doing on a daily basis.
Apart from the operational benefits that these POS features offer, is there any other benefit to getting a POS system with these functionalities?
Operational benefits aside, these five POS features also have a significant impact on customer experience. In addition to surveying retailers, we also asked small business customers what their biggest pain points are that might drive them to take their business elsewhere. Top reasons include: not being recognized as a loyal customer (cited by 66 percent of customers), an understaffed store (85 percent), out-of-stock items (83 percent) and long checkout waits (82 percent).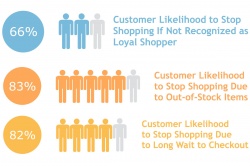 Source: Software Advice
All of these shopper frustrations could easily be prevented by a robust POS system. Take that first annoyance for example -- not being recognized as a loyal customer. With a nice POS solution, a retailer would be able to understand who their regular shoppers are and offer then deals or incentives to return. This can drive more revenue and would in effect, create happier customers.
If a retailer is a part of that 64 percent without a POS system, what do you suggest they do to start their search for the right one?
Like I said before, we talk with retailers everyday who are in this same situation, so we understand that this selection process can be a lot of work. There are a lot of options out there for business owners, and it's sometimes hard to figure out where to start or get reliable information. That's why we offer objective, unbiased and free consultations to retailers looking for software.
I'd say it's important to take a step back and look at your business operations to figure out where the weak points exist. Wherever you're struggling the most, that's probably a good indicator of where a POS system might be able to help. Our website also offers comparisons of POS systems and is a place where retailers can read user reviews and decide what might fit best or them.
Source: Software Advice