Company News • 03.11.2009
Technological cooperation of Hoeft & Wessel with INTRALOT
3,000 Skeye terminals for mobile lottery ticket sales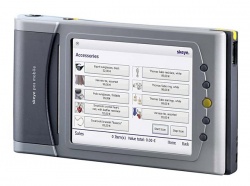 Hoeft & Wessel has entered into a technological agreement with INTRALOT S.A., one of the world's leading suppliers of lottery systems and associated products with a market presence in more than 50 countries on five continents. The company will provide to INTRALOT 3,000 Skeye terminals to be used for mobile sales of lottery tickets. INTRALOT and Skeye are planning to establish a long-term cooperation aiming to further explore Lottery Mobile Solutions.

The skeye.pos mobile unit, equipped with online communications capability, will be deployed as a mobile point-of-sale system. Operation of the device running the Linux operation system is easy and ergonomic using a 6.4" touch screen. The integrated printer can produce lottery tickets on the spot. Also built-in are magnetic and smart card readers, as well as a 2-D barcode reader for checking whether a lottery ticket is a winner.

The Skeye business unit of Hoeft & Wessel is one of Europe's biggest manufacturers of mobile terminals for use in the wholesale and retail trade, logistics and field service sectors. More than 20,000 units in the skeye.pos product group have been sold in recent years. They are in use in the service vehicles of the Automobile Association ADAC in Germany and RAC in the UK, in the trucks of a large number of logistics companies, and as mobile vending devices at events and in aircraft, and many other applications. The roll-out of a POS solution based on the skeye.pos system is under way at the U.S. restaurant chain Outback Steakhouse. With INTRALOT Skeye has won another new international customer. This demonstrates the increasing importance of international business of the Hoeft & Wessel Group.