Company News • 22.06.2015
TrueView applications have received a face-lift
Cognimatics launches redesigned GUI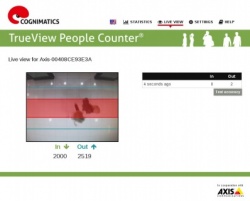 Source: Cognimatics
Cognimatics has reworked its corporate visual identity. All applications in the TrueView suite will also implement relevant elements in coming releases throughout 2015.
The company announced that the following applications are available with a redesigned GUI from June 15th: TrueView People Counter, TrueView Occupancy, TrueView One-Way, TrueView Tailgaiting, TrueView Random Inspection and TrueView Queue.
Mid-April Cognimatics launched a new look and feel to its website. Two months later most of the TrueView applications have also received a face-lift. "We have had the new improved GUI out for testing and received very positive feedback from some of our major clients. As a company, it is in our DNA to prioritize technical development, but from a marketing perspective looks do matter – perhaps even more so today than ten years ago," says Rikard Berthilsson, CEO of Cognimatics.
The website was the pioneer of a more unified look of all things visual from Cognimatics with colours, styles, and design elements consistent between different media and visual platforms. For the TrueView -suite, it means a complete visual overhaul with a flat modern style, new menu, replaced and additional icons, and new colours. In addition to this, the GUI has been improved in several usability aspects, with the most distinctive changes to be found in TrueView Queue.
Long term customers will still feel at home as the main elements of the GUI are kept the same – but now with a new modern design. Even some design elements will be recognizable as many important characteristics of the TrueView-suite of applications are kept similar.
Source: Cognimatics