Company News • 25.01.2016
Unified Store Experience at EuroCIS
arvato Systems presents an advancement of the checkout solution with omni-channel logic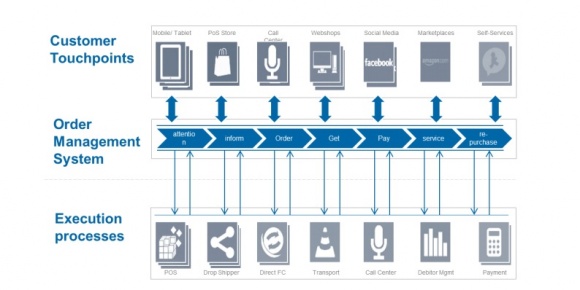 Source: arvato Systems
The EuroCIS 2016 takes place February 23 – 25, 2016 in Düsseldorf. In the upcoming year the Leading Trade Fair for Retail Technology will be all about Mobile Services at the point of sale.
In this context the IT-systems integrator arvato Systems presents in collaboration with Poresy, the specialist for checkout solutions and Sovanta, the experts for User Experience Design, an advancement of the checkout solution with omni-channel logic presented at EuroCIS 2015 towards a unified store experience solution. Among other things retailers use checkout desks and mobile devices for an extensive optimization of branch processes.
Staff members for example will be supported at front-desk processes such as sales conversations and checkout operations, which improves the quality of service. But also back-office processes such as goods receipts or transfers will be realized by the connected devices. By the usage of a unified UI-Design retailers are supposed to save time and money for training and the establishment of new processes.
Visit us in Hall 09 at booth B13 and get more insights. For setting up appointments please contact Frank Hennigfeld, frank.hennigfeld@bertelsmann.de.
Supplier

An der Autobahn 200
33333 Gütersloh
Germany