Report • 28.10.2015
Sainsbury's responds to current shopping trends
New store layout and more checkout options are tested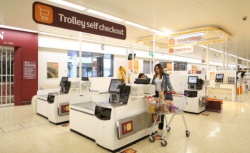 Source: J Sainsbury plc
A supermarket moves with the times: Sainsbury's is now testing new ways to respond to the changing demands of today's customers at six locations in the United Kingdom.
The most important new features are an extensive adaptation of the store layout and a wider range of checkout options. With these changes shopping is to be made faster and easier and offer customers more choice.
Assist the customer in his "shopping mission"
While customers appreciate the extensive product range available at Sainsbury's markets, not every customer is interested in the entire product range. The supermarket operator reacts with the establishment of zones which are geared towards very specific shopping requirements. Customers can now find convenience foods and freshly baked goods in the pilot stores in a "food to go" zone directly next to the cash registers. This should enable customers to stock up on fresh food more quickly.
At the same time new space for the non-food offer was created. The areas for cooking utensils, home furnishings and consumer electronics are now found in the outer regions of the markets where the customers can browse the products calmly on a retail space which was increased by 30 percent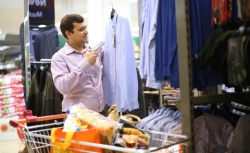 Source: J Sainsbury plc
Commenting on the project Mike Coupe, CEO of Sainsbury's, said: "The majority of people still do most of their shopping in supermarkets and that's a trend that will continue, but we need to make our supermarkets more convenient for people who visit often to do a smaller shop. This trial is about seeing how far we can go in catering for every shopping mission, whether someone wants to pop in quickly to buy a sandwich for lunch, or whether they have more time and want inspiration for the home, or advice on tech and gadgets."
New POS technology and checkout options
One of the things customers most frequently complain about in the supermarket are long queues at the checkout. To make payment faster and easier, Sainsbury's is also testing two new checkout options. In addition to the classic manned cash register and self-checkout terminals for customers with a small basket there now also are bigger self-checkout terminals for customers with a small shopping cart in the pilot markets.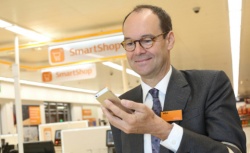 Source: J Sainsbury plc
Additionally, in two of the markets, the new shopping app "SmartShop" is tested. With this solution customers can complete the checkout by themselves using a handheld device. Once the tests of the technology are completed and it has been rolled out on a larger scale, customers shall be able to scan their shopping lists at home and then be guided to the desired products when they are in the store. The actual payment process is then handled by the customer on his own smartphone, which should make this solution the fastest payment method available at Sainsbury's.
"No matter what customers are buying, we know that everyone wants to check out as quickly as possible and giving customers more checkout options to suit them is key to the trial", said Coupe. "The pilot stores will act as a barometer for feedback and we're listening to what customers tell us along the way. This is very much a trial and we know that not everything will work, but certain elements are already proving very popular and we would hope to roll those out more widely where feedback is consistently positive", he concluded.
Author: Daniel Stöter, iXtenso.com