News • 12.04.2023
The Top 500 European cross-border online shops
The "Top 500 Cross-Border Retail Europe" edition is a major compilation of cross-border data from the websites of European retailers
Cross-Border Commerce Europe has released a major research paper covering and ranking the 500 strongest European players with a focus on cross-border performance. The total online EU cross-border market generated €179.4 billion in 2022 (excluding travel), an increase of 5% YTD. A total of €105.5 billion in turnover was achieved across borders by European webshops. In this fifth edition of the "TOP 500 Cross-Border Retail Europe", IKEA maintains the leading position. Lidl as a retailer paves the way to a robust multi-channel cross-border strategy. A study produced by CBCommerce with the support of Checkout.com, FedEx Express and Payoneer.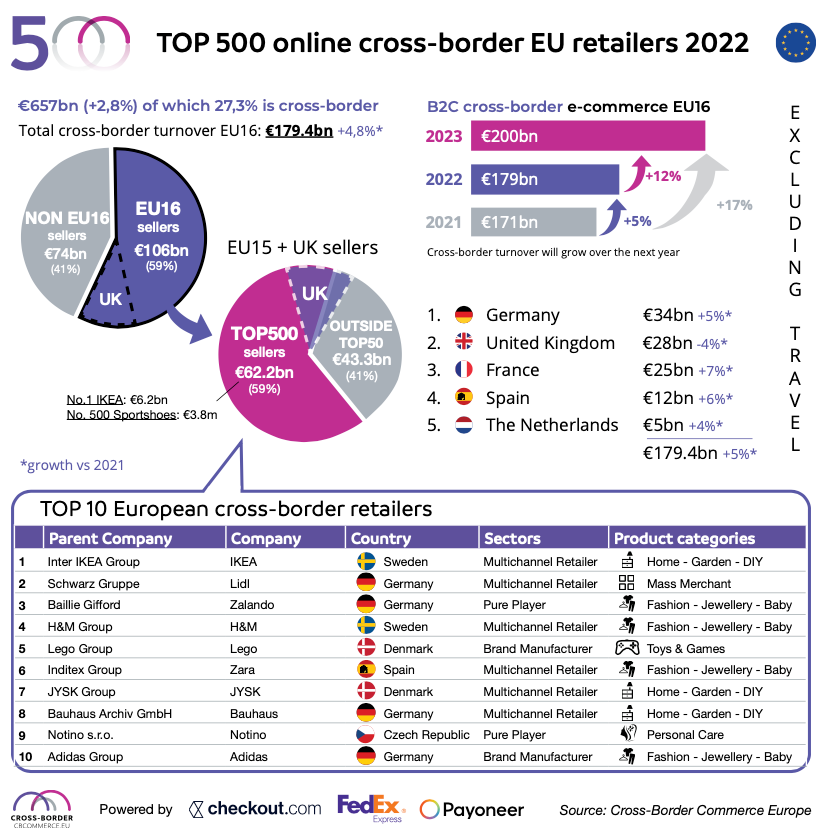 Source: Cross-Border Commerce Europe
The Top 500 reveals lower than expected cross-border turnover amid a challenging macro-economic environment and supply chain challenges. The Top 500 GMV showed a slight increase over 2022 after trading was impacted by lower consumer confidence and inflationary pressures. It comes as the pandemic boom in online shopping continues to fade for many retail giants. Nevertheless, online EU sales, with a growth of 2.8%, outperformed total retail, which flattened in 2022.
The "Top 500 Cross-Border Retail Europe" edition is a major compilation of cross-border data from the websites of European retailers. The ranking is obtained by weighing four parameters:
Online cross-border sales in Europe (15 countries within Western Europe and Scandinavia, and the United Kingdom)
SEO-indicators covering cross-border performance
Cross-border score determined on the amount of active countries
Number and percentage of cross-border visitors
Seven additional secondary weighted parameters fine-tune this ranking:
Brand authority
Organic search percentage
Number of languages
Number of currencies
Number of payment methods
Local supply availability (transport and stock services)
Marketplace functionality
Top 10:
Top 1: Ikea
Top 2: Lidl
Top 3: Zalando
Top 4: H&M
Top 5: LEGO
Top 6: Zara
Top 7: Jysk
Top 8: Bauhaus
Top 9: Notino
Top 10: Adidas
The full press release can be found here.