Local Shopping • 08.12.2016
Lokaso Siegen effectively strengthens the regional retail sector
Stepping stone into e-commerce with measurable success
Local commerce approaches are a dime a dozen these days. Yet none of them are effective enough to where brick-and-mortar retailers actually benefit from them. Patrick Schulte of billiton is someone who has recognized this and created Lokaso, a new system that puts the focus back on regional products.
Mr. Schulte, what is the objective of the Lokaso Siegen platform and why did you develop it?
Schulte: The overriding objective is obviously to strengthen the retail sector in the Siegen region. I have looked at different concepts and attended various events, but was not able to find a system that actually works.
Retailers basically have two objectives: they want to generate revenue and be involved as little as possible in the process. They are experts in their field but generally don't know much about e-commerce. If they already have their own store, they often lack the exposure to be noticed and bought online. Lokaso solves this problem without creating a hurdle for the retailer or end consumer.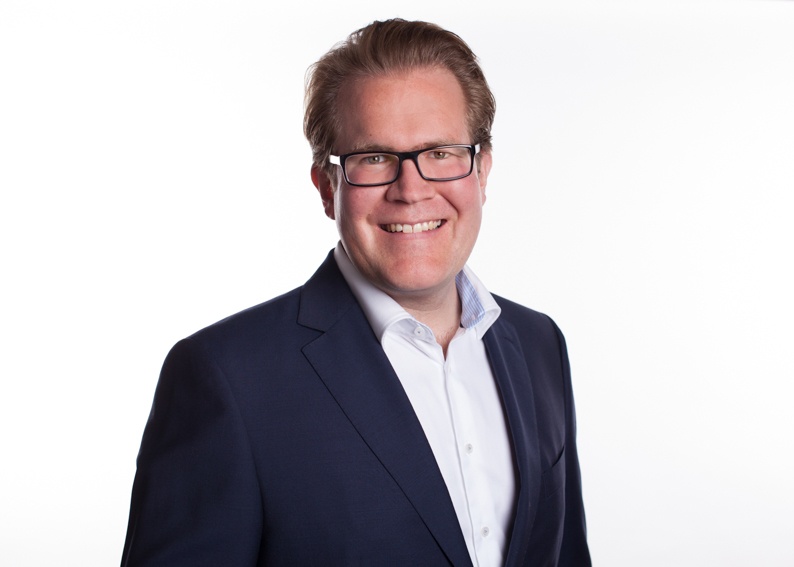 Source: Britta Krämer, billiton GmbH
What came next?
Schulte: We developed a system that shows via search engine which products are available in the region and can be subsequently purchased online.
We launched the development stage at the end of 2015/start of 2016. Our primary goal was to show the variety of products. That's why we personally take care of every retailer's data connection. We automatically receive updated inventory quantities via an inventory management system interface. This increases our inventory but is always tracked in real-time to ensure that products indicated in the system are actually also available and in stock. Obviously, there are also retailers who don't conduct inventory management or have digital inventory. We offer two solutions for them to use: a small iPad POS system and a somewhat larger system that enables retailers to digitally manage the process in the store.
What additional services do you offer retailers?
Schulte: We want to take everything off the retailer's hands and make sure he or she does business and makes money. We achieve this via the digital connection but also by handling all of the marketing. We also take product photos or write short texts for retailers with limited inventory. The complete package in Siegen runs between 99 and 149 Euros per month – of which a large part is used for marketing in the region. We also use a small percentage of sales from an order to cover the delivery service cost. If a customer only reserves an item online, there are obviously no sales-related costs. We also emphasize this aspect. We prominently display the contact details and also provide a link to an external store if needed. This also supports the retailers in the brick-and-mortar realm.
What's more, the entire order process is handled by Lokaso: we get the order and send it to the retailer. We also let the retailer know when the products will be picked up at his or her store. Generally, the retailer has about an hour to package the products.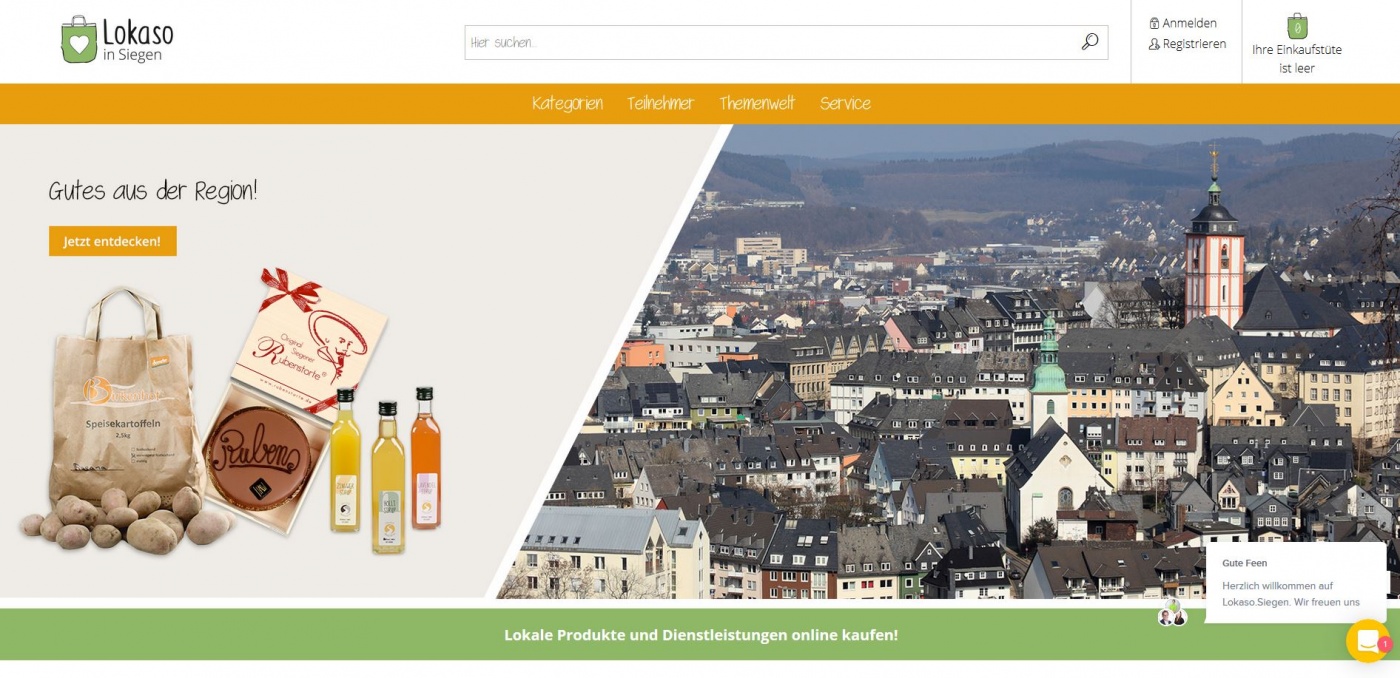 Source: Screenshot "www.siegen.lokaso.de"
How were you able to sell local retailers on the Lokaso concept?
Schulte: By aiming at redirecting one percent of the already existing e-commerce sales in the region into the region. That's currently approximately 350,000 Euros per day – extrapolated based on German statistics – and would mean, we redirect 3,500 Euros into the region every day. Given 50 to 60 retailers and a shopping cart value between 50 and 60 Euros, we would generate about one order per retailer per day. This allows for a realistic assumption pertaining to the approximate volumes a retailer can expect.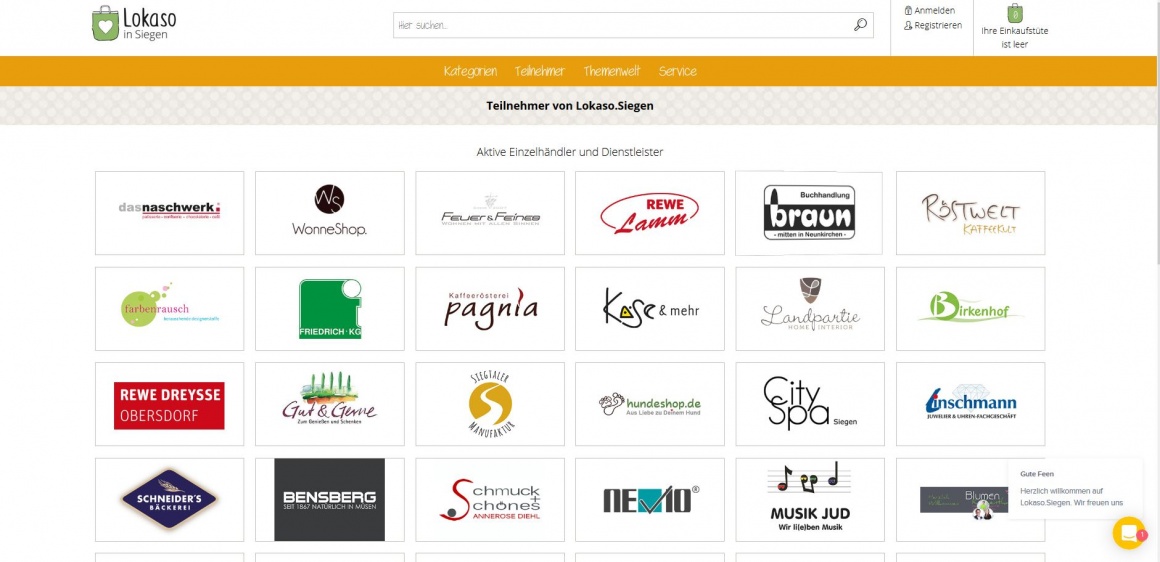 Source: Screenshot "www.siegen.lokaso.de"
Can you already draw some early conclusions?
Schulte: At the beginning of September 2016, we went online with the platform. After 10 weeks, we have successfully processed about 650 orders with 38 retailers. This is a great achievement if you look at other comparable regions. After one year, they didn't even have 100 orders.
The scope is still manageable and obviously still needs to be expanded. We presently have 700 registered users but we are addressing 150,000 potential customers. That's actually a good thing because the system was programmed from scratch of course. Things need to be corrected and improved. Given the customers we currently have, we can monitor exactly where the problems are and at what point we act in real time. This lets us adapt our system and accommodate delivery of specific articles by days or even by time windows.
What are the advantages for the user?
Schulte: We have free same-day delivery if you spend a minimum of one Euro. Customers actually expect this since they are already familiar with this convenient aspect thanks to amazon or Zalando. Like I mentioned already, the delivery is paid for by the retailer based on a percentage of merchandise logistics. The merchandise that the customer orders at the retail price is being picked up at the vendor and delivered to the customer's home.
Same-day delivery was the first and only option for us since we also ship fresh produce and refrigerated items. If you order by 10 a.m., the items will be delivered between 1 and 3 p.m. If you order by 3 p.m., the items will be delivered between 6 and 8 p.m. Returns can be made at the local retailer or through Lokaso. At the customer's request, we also take back deposit bottles or reusable packaging from a coffee shop for example.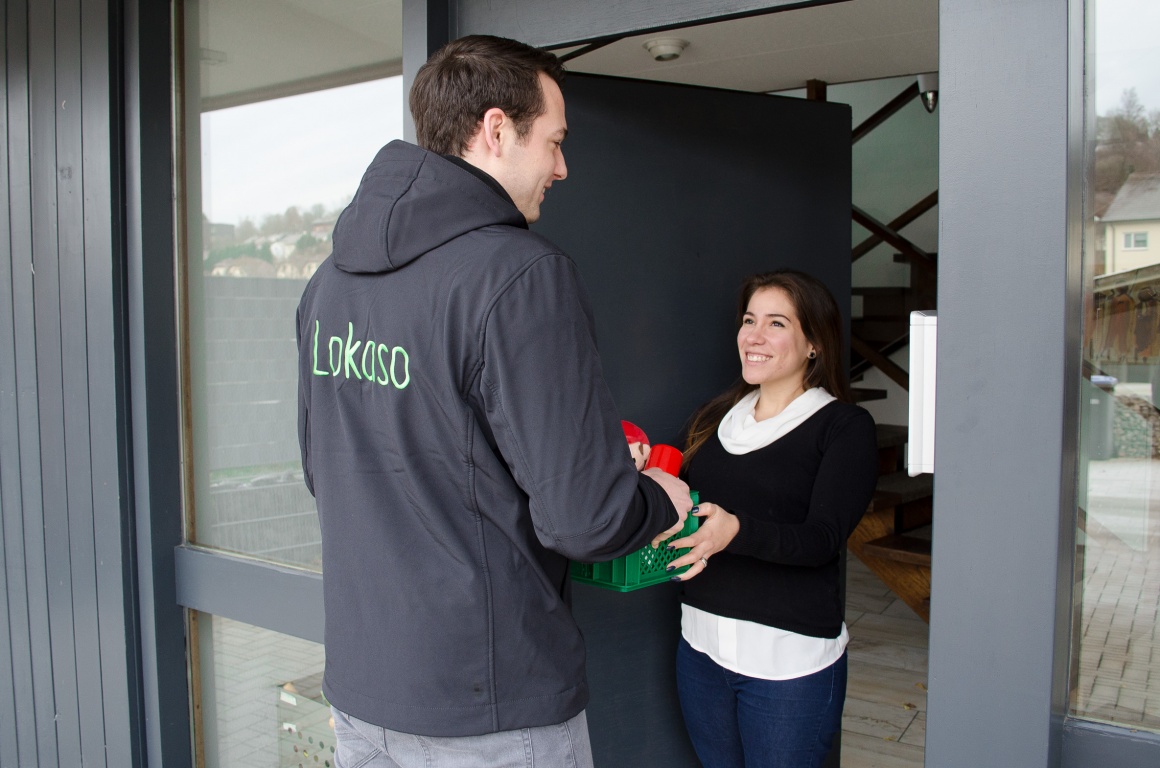 Source: Jessica Moos, Lokaso GmbH
Who can customers contact if they have questions?
Schulte: Our "fairy godmothers" handle these customer inquiries. Our in-house associates take the customer questions and forward them to the retailer and back. Or vice versa: if something is not available, it is reported to the fairy godmothers and they talk to the customer and offer alternatives.
Payment often makes or breaks the decision in favor of a specific platform. Which payment method did you choose?
Schulte: Consumers and retailers requested payment via Euro debit card in this case. That's why we gave drivers the respective terminals and also included an automatic safety feature for customers: you only pay if you hold the items in your hands. Needless to say, we also have requests for payment via credit cards and PayDirekt, a solution offered by German banks. We will add these options since many customers have items delivered to their office or have them delivered to a neighbor for example.
Why do customers order via Lokaso?
Schulte: Ultimately, there are different incentives to order via Lokaso. Some people simply want to save time. Others say, they get better products and service this way – both on-site and online. Then there are reasons such as immobility. Lokaso offers customers the opportunity to take a look at products on location and to ultimately order them online, so they don't have to carry the items home.
Who generally utilizes this service?
Schulte: Initially we thought this offer would appeal to those over 30. But that's actually not the case. Even students and older persons use Lokaso.
How do other regions perceive Lokaso?
Schulte: During the development phase, we were already approached by other regions that expressed interest in our system. This resulted in us providing the system with multi-client capability, so we are able to carry it over. Interested regions can subsequently utilize it through an operating company. Presently there is no region that is as far along as Siegen, but many intense discussions are already taking place.
What's next for Lokaso?
Schulte: We already signed more than 30 additional contracts with retailers that will soon be available on our website. Services is another area we are currently expanding. In this case, we are catering to beauty salons, real estate agents, travel agencies or insurance companies. Needless to say, we are unable to sell individual services at Lokaso but we are at least able to establish contact and set up appointments. We would also like to include farmer's markets in the future.