Company News • 27.01.2016
Zalando selects AURES
Online apparel platform marks the expansion of its brick & mortar retailing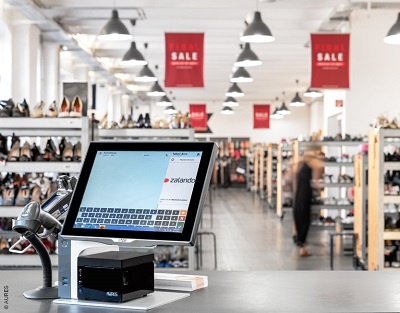 Source: AURES Technologies GmbH
Established in 2008, leading European online platform for fashion, shoes, accessories and sportswear Zalando came to the UK in 2011 as part of its strategy to extend its footprint across Europe.
Since 2012, the Group has transformed itself into a powerful multi-channel presence with the opening of a Berlin store. A second Zalando Outlet (zOutlet) store, in Frankfurt, has now opened, enabling the group to meet its customers face-to-face in two major cities.
Munich-based AURES Technologies GmbH has spoken of its success in securing a contract with the Zalando Group to provide point-of-sale technology in-store. AURES Technologies GmbH sales manager, Hilmar Buchwald, said: "zOutlet's order for an EPoS system from AURES, a new development for an online retailer, marks a significant stage in the company's growth."
Supplier

Maisacherstr. 118
82256 Fürstenfeldbruck
Germany
"In the two Zalando Outlet stores, customer purchases are now processed with the new Sango i5 point-of-sale system. The Sango is one of our flagship terminals, renowned for its unique design, elegant appearance, supreme performance and reliability," adds Buchwald. "Our market reputation for first-class service ensured the Sango was Zalando's first choice for new EPoS equipment."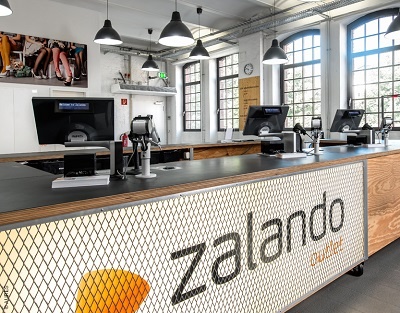 Source: Aures Technologies GmbH
One of the many unique features of this striking, integrated terminal is to completely free-up the space under the touchscreen. Available in several colours, Sango carries brand identity right through to the point-of-sale so is perfect for today's stylish and fast-paced retail environments.
To complement the Sango i5 terminals, Zalando has also invested in AURES ODP 333 Thermal Printers. The closed-top design with front-facing receipt print-out ensures long-lasting, trouble-free operation. Its compact footprint enables it to be installed under the Sango's screen or in the lower drawer. Three interfaces (USB, Serial, LAN) offer future-proof set-up options. The ODP 333, in common with all AURES point-of-sale systems, is energy-efficient (Energy Star certified) and very quiet.