News • 02.08.2022
Best Buy unveils first ever small-format, digital-first store
Encouraging customers to shop, get advice and check out digitally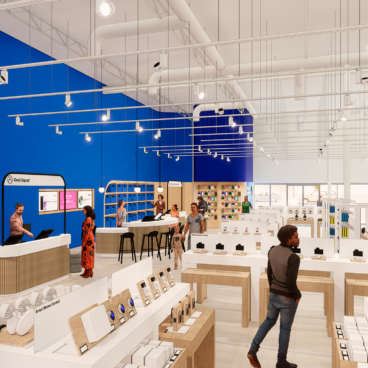 Source: Best Buy
Last fall, we shared how we're testing new store models in Charlotte, North Carolina and how all of them work together to meet our customers' varied and changing needs. Now we're introducing another piece to that pilot: our first ever small-format, digital-first store.
This new 5,000 sq. ft. store, which opened on July 26 in Monroe, will feature a curated selection of our best-in-category products, the expert services customers know and love like Geek Squad, and new ways to pick up your tech.
Plus, we're testing a new digital-first shopping experience that encourages customers to do everything from shop, select your product and get advice digitally while in the store.
This is one more way we're continuing to invest in our stores to better serve our customers' needs in an ever-growing digital world and create a more seamless shopping experience.
We'll continue learning from our store pilots in Charlotte as this new small-format store test gets underway.
While the shopping space inside the store is smaller than our traditional larger stores, shoppers can expect the same great experience and services, including:
A curated selection of best-in-category products from home theater and audio, computing, headphones, wearables, fitness, cell phones, cameras, smart home, small appliances and more
Geek Squad and consultation services areas
Many of the same ways to get your tech that customers know and love, including in-store pickup, as well as new pick-up lockers on the outside of the store, for around-the-clock pick-up options
Digital-first services
The smaller shopping space isn't the only new thing customers can expect to see at the Monroe store. We're also piloting a new digital-first shopping experience that encourages customers to shop, get advice and check out digitally. When shoppers enter the store, they will be greeted by a 7-foot-tall digital display that explains what's new and how they can shop inside the store, including:
Just scan it. The majority of products shoppers see inside the Monroe store will primarily be on display for them to see, touch and try out. When ready to make a purchase, customers can use their phone to scan the QR code on any product price tag and send the order to be picked up at the order pickup counter. This will notify one of our expert Blue Shirts, who will then pick it up in the backroom of the store and bring it up to the register for you to complete your purchase.
Mobile Self-Checkout. Our Monroe store will also have a collection of grab-and-go items, like charging cables, cell phone cases, gift cards and more. Customers will be able to simply use the Best Buy app, scan the barcode and use the mobile self-checkout option to complete their purchase.
Get expert advice. Customers who need advice will also have the option to shop live with an expert from our virtual store via call, chat or video chat while in the store (our Blue Shirts will be there to help every step of the way).