Report • 04.01.2023
Open app, call fitting room, try on
Amazon sets on the fashion niche with Amazon Style with all-modern technology
Online? Offline? Omnichannel! That's what customers are often calling for these days. Even e-commerce veteran Amazon hears the calls from afar and, after its Amazon Go and Amazon Fresh stores in the grocery sector including self- and seamless checkout, is now focusing on the fashion industry.
Source: Amazon
The new store concept is called Amazon Style. Here, customers can store for clothing, shoes and accessories. We took a virtual look around the store in The Americana at Brand mall in Los Angeles to see what modern technologies are being used to make the shopping experience even easier and more unique.
We have summed up the eight most important points for you:
1.
As soon as you enter the store, the space looks different from other clothing stores. Many of the clothes and accessories are grouped into outfits on large walls and can be shopped for without a lot of searching and fitting.
2.
Like the Amazon Go stores, the Style store is packed with shopping technologies. QR codes play a crucial role here: According to Amazon, the clothing racks are tagged with them, which customers can scan to see available sizes, colors, customer reviews and product details.
3.
Carrying through the store, carrying around, no hand free to look around further? All that should be a thing of the past here, too. With just one click in the app, the selected items are sent directly to the dressing room. A special feature: Amazon sends additional items that its algorithms think the person might like.
4.
As soon as a fitting room is free and the marked products are ready there, the customer is notified. Trying on can begin.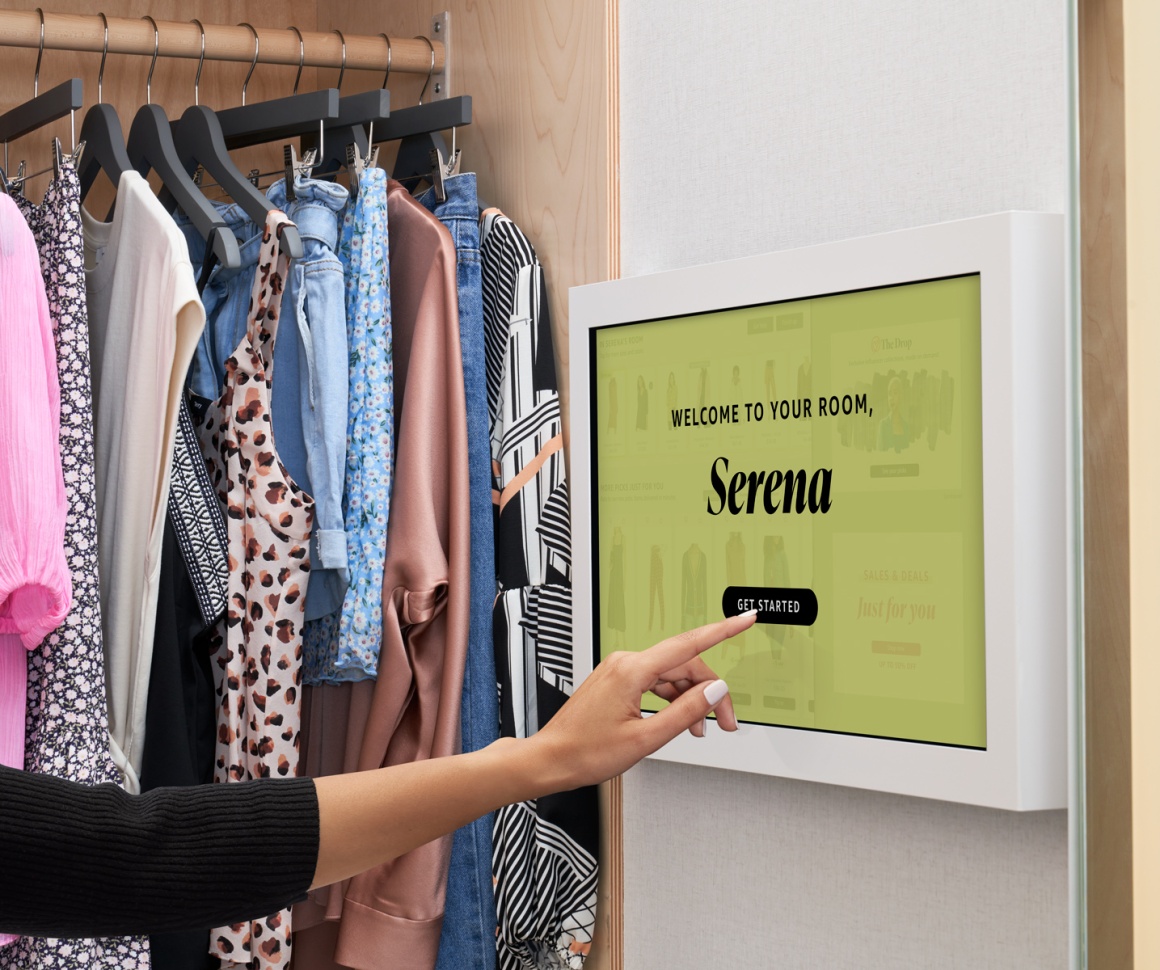 Source: Amazon
5.
There are also touchscreens in the booths themselves, so you can get even more information about the assortment and also have other items brought to you.
6.
Like something? The clothes can either be bought in-store or saved in the Amazon Shopping app to buy later. Alternatively, customers can use the app to find the clothes they want from home and then have them delivered to the Amazon Style store to try them on in person.
7.
Thanks to Amazon One's technology, purchases can be paid for with the palm of your hand and the associated identity verification.
8.
Despite all the use of technology, the shop itself will also be staffed by employees who focus on customer service, delivering items to the changing rooms, assisting customers at the checkout, managing the back office and processing payments.