News • 21.04.2021
Lowe's introduces enhanced shopping experience for Pro customers
Exclusive offers, such as perks, new products and services
Lowe's announced its next major step as the New Home for Pros by launching a tailored store shopping experience created specifically for Pros. The Pro customer shops at Lowe's significantly more often than DIY customers, so the upgrades were designed with speed and convenience in mind, saving Pros time and money.
The updated Pro shopping experience is now being rolled out nationwide and includes a wide array of new offerings, such as:
The Pro Zone, a dedicated area near the Pro entrance with products for grab-and-go convenience, featuring popular Pro items, specially selected and newly released products, and value packs
Pro Trailer Parking, which features convenient extended trailer parking spots
Free Phone Charging Stations located at the Pro Desk
Convenience Rack with several never-before-sold items such as pain relievers, personal care items such as sun and hand care, and more
Dedicated Pro Checkout staffed with a team of sales, cashier and loading associates – that will continue to expand – to help get Pros in and out quicker
Flexible Credit Options that can save Pros five percent off every day on eligible purchases plus Lowe's For Pros Loyalty Members can get zero percent interest for 60 days when using their Lowe's Business Advantage or extended terms when using their Lowe's Commercial Account.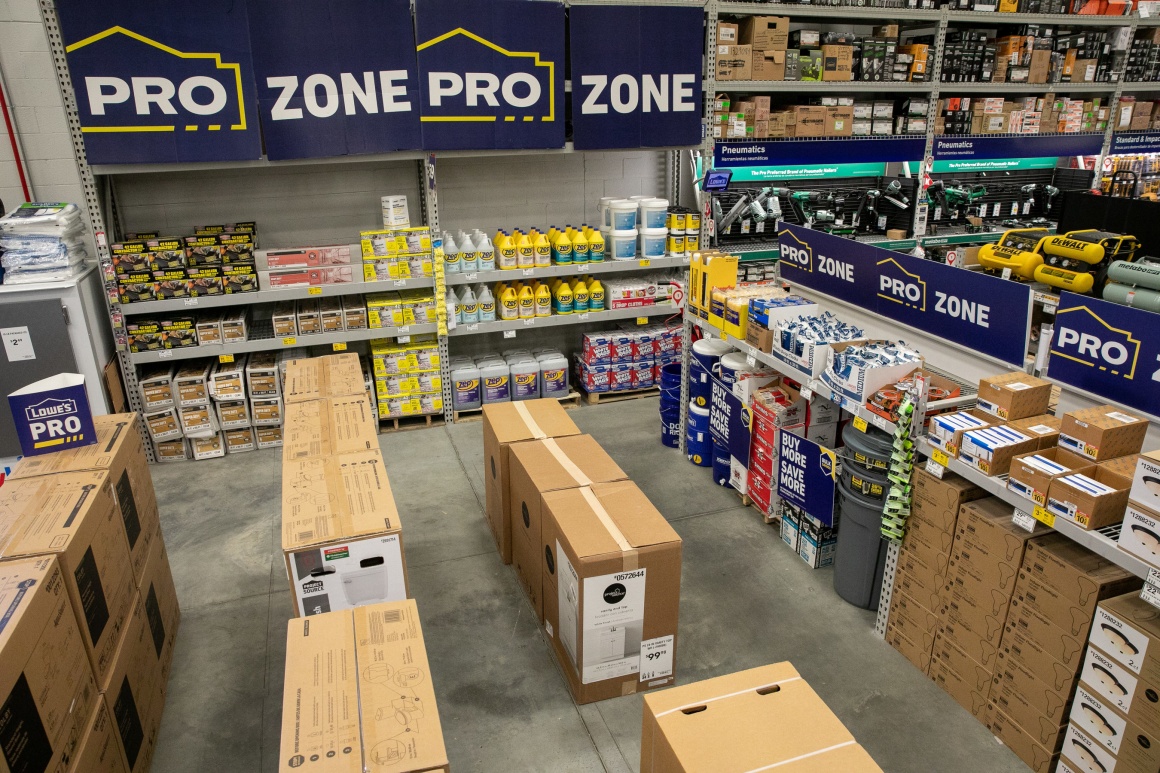 Source: Lowe's Companies, Inc.
In addition to these upgrades, Lowe's introduced new technology to help associates improve their relationship with Pro customers. The new tool provides insights that help associates engage with Pros unlike ever before and ultimately help them grow their businesses.
The new enhanced shopping experience is a next step forward as Lowe's continues to anticipate and meet the needs of its Pro customers. Lowe's estimates that its Pro product market is more than $400 billion and is expected to grow faster than the overall U.S. home improvement market in the coming years.
The company has continued to enhance its Pro offerings in recent years – in 2019, Lowe's improved Pro fundamentals such as job lot inventory quantities and better store service. In 2020, Lowe's launched its Lowe's For Pros Loyalty program, continued associate training to help with specific Pro needs, announced new services such as Lowe's Tool Rental and redesigned the layout of stores to better serve Pros.
Now, Pros can expect to see additional offerings – such as windshield cleaning stations and free air stations for filling up tires and portable air tanks for pneumatic tools, among other specialized amenities – throughout the year.